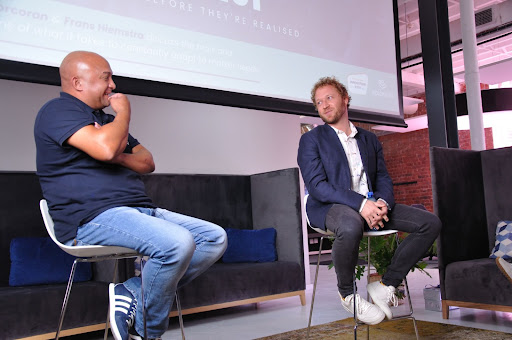 17 Mar

Uber's Biggest Lessons Are Learned from their Drivers

Frans Hiemstra wore a satisfied smile on his face at the Evolution 101 event at Innovation City, and it wasn't just because lockdowns have finally eased up and Uber's wheels are turning once more, no; it was because his baby had slept through the night for the first time.

And when you meet Uber's General Manager for Sub-Saharan Africa, you realize that Hiemstra is incredibly down-to-earth. From running with his pram and two rescue dogs underneath Table Mountain to engaging in round tables with local Uber drivers, Hiemstra's finger is on the pulse of Africa's diverse terrain. "It's the diversity of thought I'm after. My ethos is to be around people different to me, not the same as me – I like to be challenged. These are the learning opportunities that we should all be after, and great minds don't think alike," Hiemstra said.

According to Hiemstra, Uber's focus is on putting money into driver's pockets. And during the pandemic, they kept the wheels turning by assisting with the Bill and Melinda Gates Foundation initiative. Uber helped by couriering medical supplies back and forth from distribution centers to patients in dire need of chronic medication.  

They then also donated R5.5 million worth of rides to 100,000 people in need of getting to vaccination stations and home again. Uber also worked closely with the Department of Education to get teachers vaccinated on time.            

In Hiemstra's world, the environment must be super-efficient, as decisions need to be made quickly, and so Uber's working framework consists of one decision-maker who needs to ensure that all their clients; the drivers, riders, couriers, restaurants, etc are all treated fairly and that no-one is favoured more. 

Gaining respect and trust means that they are privy to important information that not even the analytics can show: "At our latest round table with drivers, we subsequently found out two errors in the app, which we were able to easily fix, so these levels of communication with them is worth more to us than any data we collect," Hiemstra said.   

The most interesting thing about Uber is their people; there are full-time earners, part-time earners and some who just drive on a Friday. Hiemstra says that each and every Uber person has a wonderful backstory, and it's worth our while, should we be in a chatty mood as we are driven to our destinations, to ask them about their personal journeys – there may be some stories that may truly amaze us.