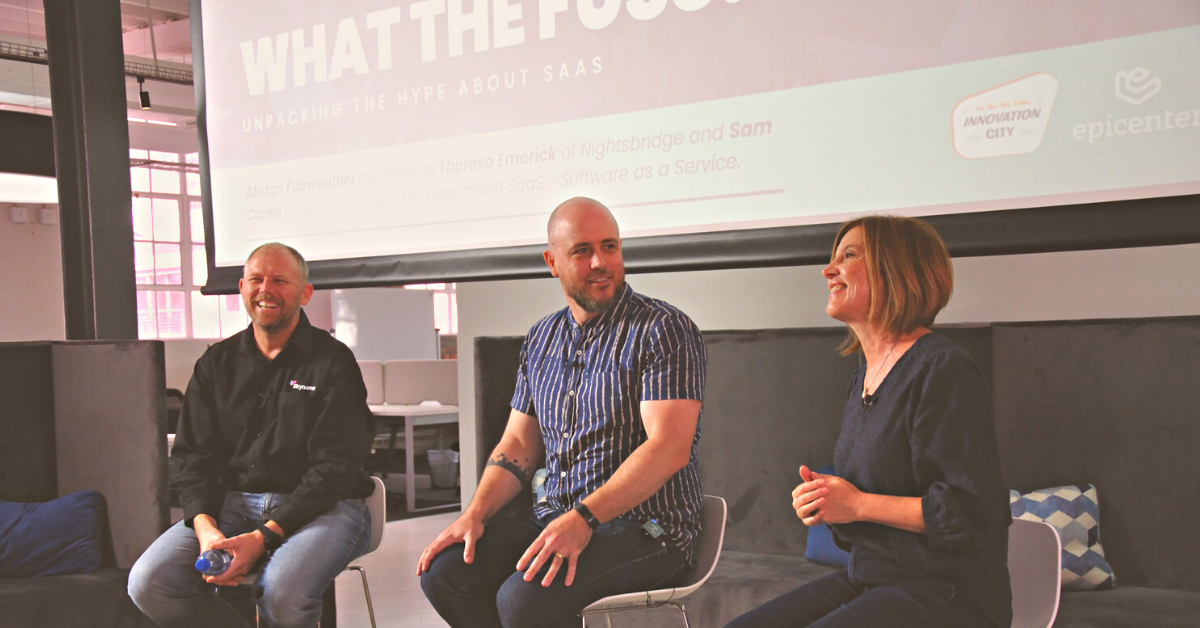 24 Mar

What the Fuss?! All about SaaS!

The packed Amphi audience at the 'What the Fuss?!' event on Thursday 24th March learned much about SaaS, as guests Theresa Emerick, Founder and Managing Director of NightsBridge, and Sam Clarke, CEO of Skynamo fielded questions from moderator Alistair Fairweather, founder of PlainSpeak.

According to Fairweather, SaaS is worth $150 billion globally. Its role in taking away the complexities of cash management, the sound business models that equity makers really like, and millions of committed users and revenue streams mean that the advantages are nothing short of amazing. 

 Skynamo has been around for ten years, and Clarke says the tools, costs and databases are 'chalk and cheese' now to what they were back then: "Nowadays, we can make changes under the hood and bring down costs and customers are none-the-wiser," Clarke said.  

"I may not be the biggest techie but even I know that JSON is not a real boy!" quipped Theresa Emerick, who held up an old Compact Disc to show the humble beginnings of the success that is now NightsBridge. While being tech-savvy is important, it's not an integral part of the whole thing. "Identifying a need, bringing value, communicating with customers and making something they're willing to pay for is the most important aspect of this industry," she said. 

SaaS has definitely taken over the consumer space. The biggest concern customers have is whether their data is safe. On that point, Clarke said: "Our biggest sales pitch has always been: Your data is safer with us than it is with you!"  

On scaling internationally, all three companies at the event had some interesting experiences to share. Skynamo's expansion saw them having to try to understand changing brand personas to suit the business atmosphere of other countries, and the challenges they faced with staff working in 3 time zones. "The biggest thing is building trust with clients; if Skynamo goes down, they want to know someone will be present to fix it. It's one of the biggest challenges of providing a completely remote service," Clarke said.   

 NightsBridge had to work hard to build trust in other countries, like Nigeria, for instance, where business trust is generally low. "We are in 30 countries all over the world, and in some, we need to have boots on ground, knocking on doors. Trust is everything; luckily, most of our clients understand the benefits of how SaaS can work for them," she said.   

Pricing for SaaS seems to be a bit of a grey area, with many scaling options available to service providers, such as offering bundles, value-added services, different subscription tiers, upselling, etc, but all agree that sticking to one flat rate is probably the best way to go, even when increases have to occur. 

At the end of the day, educating clients on SaaS is integral to its success. All parties admitted that a huge amount of marketing spend goes to education and communicating the right messaging to clients. The secret to SaaS success? "Be prepared to be in it for the long haul. That's what really works. And don't forget to be friendly! Smile a lot!" Emerick concluded.