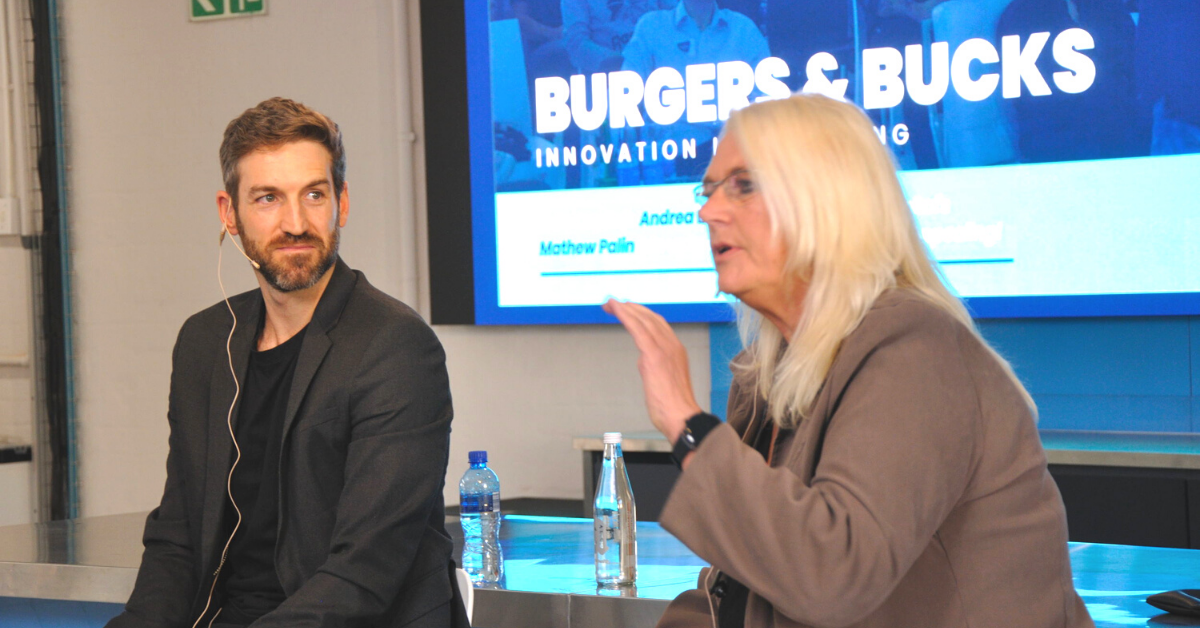 07 Apr

Start-Ups: How to Have That X-Factor

What does it take to attract funding from top VCs? Knife Capital's Andrea Böhmert and Hlayisani Capital's Mathew Palin joined Stephan Ekbergh on stage to talk frankly about the current funding ecosystem in Africa.

"Africa has been severely underfunded in the past but now there is huge interest in African start-ups. Africa is no longer a risk; it's full of opportunity," said Palin. And the proof is in the numbers: In 2021, African start-ups were reported to have raised just under $5 billion – a continent record. And 2022 is also set to be a record-breaking year: By the end of February, investors had already pumped $1 billion into African start-ups.

"Being an investor is cool now – it's not a swear word!" quipped Bohmert, who has been involved in investing in African entrepreneurs for a hearty span of 15 years. Back then, there were only two entrepreneurial events a year in Cape Town, with only a handful of VCs. 

But within this exciting growth spurt, Bohmert says that extra caution must be taken: "The words 'entrepreneur' and 'investor' are over utilized – it seems nowadays anyone can be an investor as long as you say so on social media. Someone who puts in just R20,000 is considered an investor. There are such things as 'sweaty investors' who go to pitches but just end up wasting your time." Bohmert said.   

How does one avoid a sweaty investor? 

Do your due diligence: "One of the big failures entrepreneurs make is they don't do a proper DD on their investors. You have to understand what they're coming with," said Palin. 

"Ask their previous portfolio companies how the investor fared during good times and especially the bad – that's where you'll be able to see whether this investor will journey with you," Bohmert added. 

With Fintech diversifying immensely and with the incredible quality of businesses coming out of South Africa alone, Venture Capitalists have certainly become very attractive. The entrepreneurial climate has changed for the better, with more opportunities, as well as access to information which means the ability to do proper due diligence. "It's real deep IP we can now commercialize," Bohmert said.  

The entrepreneur is the key to investment 

Investors will always back the jockey when looking for the right start-up. Obviously, the business should also be scalable and original in concept, but the clincher is the quality of the jockey. 

 "We have walked away from a fantastic, scalable, unique business because of the people running it. If you're not open to any criticism or push back, you're probably not going to get funding from us. We believe we have to walk the journey with the entrepreneur; it's a long 10 year marriage of sorts. It's imperative then that it has to be the right fit," said Bohmert.    

Palin looks specifically for resilience, drive and traction: "The idea is just 10% of the whole, while blood, sweat, and tears is the 90% and that all comes down to the quality of the team," he said.

In the opposite vein, the experts agree that you should never take money from an investor if you don't like that company or that person either. If there is no mutual respect and your gut feel is  you will not be able to work together. Don't take their money! 

Hearts, Minds, Wallet 

"Hearts, minds, wallet – in that order," said Bohmert, on being asked about what gives an entrepreneur that X-Factor. "First get me excited, then my mind should be able to see the opportunity, then: Ooh! I can make money out of this! The X-Factor is apparent when I can remember the pitch clearly and I'm still thinking about it the next day," she said.

 Speaking about personal mentors, Palin said he admires, values and appreciates his team the most, as he doesn't enjoy putting anyone on a pedestal. Bohmert recalled meeting Sequoia Capital's Roelof Botha, often lauded as one of the most powerful people in venture capital:

"When I met him he was seriously impressive; he oozed magnetism. He walked into the boardroom and just glanced at the entrepreneurs present and then promptly made three statements that showed he had seriously researched the entrepreneurs beforehand. The questions he asked were so spot on! He immediately got down to issues of the business and was extremely clear about what he liked and didn't like, without any arrogance. I walked out of there wishing I could be like him when I grow up!" Bohmert said.    

The lesson here is clearly to do your homework before a meeting: "If I'm meeting with you, I've definitely looked you up – I've done my prep, so you'd better do your prep before you meet me," Bohmert said.  

To co-found or go it alone? 

There's a lot of talk around the ideal business relationship involving a large team with co-founders or whether it's best to go solo. According to the MIT Sloan School of Management,  solo founders are twice as likely to succeed in business as co-founders. Palin cautions that while it's always good to have a shoulder to cry on, co-founders must have honest conversations about what happens when someone's role is no longer relevant.  

"The co-founder should have complimentary skills. If you're going alone, start surrounding yourself with people with these other skills. A team made up of people with the same skillset often translates to an unscalable business," Palin said. 

The value of networks 

"A lot of entrepreneurs don't understand the value of networks! People do business with people. People invest in people. You need to do networking – invest in it, build it – if you can build a real authentic network, it is the most valuable thing," Bohmert said.  

Don't look for funding, look for customers 

It often surprises startups when they hear that they may not necessarily need MONEY to grow. Sure, money is an enabler and accelerator, but if you take money from investors, you are also giving away equity and decision making power. "You can't just want to spend money," said Palin. 

Focusing on customer acquisition rather than hustling for investors will allow you to slowly grow your business on your own while you wait for a window of opportunity to get that ideal investment.  

Everyone gets rejected. A lot. All the time. Keep your chin up!

 Stephan Ekbergh rounded off the talk with a comical proclamation of what it felt like to get rejected by investors over and over again: "Rejections are like a cold shower and a Brazilian wax at the same time!" he said. Judging from his own amazing business success, it's certainly ok to get rejected. Just dust yourself off and try again!