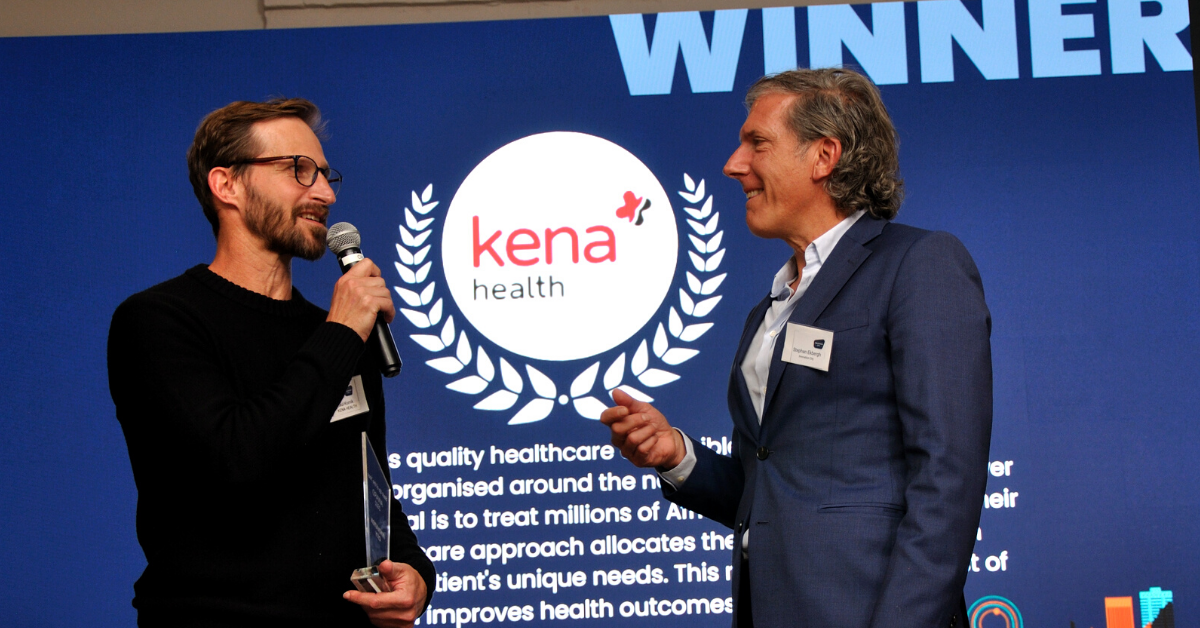 26 Apr

Kena Health Wins Innovation City's Start-up of the Year Competition

Innovation City is all about making and nurturing innovative and impactful connections in business. Their annual Start-up of the Year Competition had three main criteria based around seeking out the most innovative, scalable and impactful start-up in South Africa. Kena Health won this inaugural year's competition, announced at the gala event Tuesday night at Innovation City.   
Cape Town: Preferred Home of Exciting New Start-Ups
In 2021, Cape Town had the largest number of startups in South Africa, and is currently number 3 on the continent. The goal of Innovation City is to make Cape Town number 1 by enticing entrepreneurs and intrapreneurs to join in and make pertinent business connections, to drive business growth in SA and Africa.   
Innovation City: A Platform for the Future of SA's Business Success  
The Innovation City Start-up of the Year competition included start-ups from a wide variety of industries, showcasing diversity and thoughtful innovation: 
Loop is an app facilitating digital payments for minibus taxi commuters, a traditionally problematic cash-based system; Sensor Networks, whose aim is to add smart tech and compatible solutions to homes, aiming to save consumers money. BioCertica is the first African-based genetic company able to use your DNA to deliver nutrition advice, suitable workouts, and products tailored to suit your genetic makeup. 
Omnisient uses crypto-identities to anonymise and protect personal information at source. Glyde strives to create frictionless and cost-effective payment solutions for the travel industry. 
Momint creates NFT tech to enable creators like artists and designers to earn royalties and retain legitimate ownership of their work. DigsConnect helps students find rooms and places to stay while they attend college.   
Other impactful startups looked to provide solutions in the townships – a severely overlooked market. Bitprop finances the building of rental flats behind properties where both the landowner and Bitprop share rental income, giving the property owner a new income stream. Kena Health makes quality healthcare accessible to Africans by using simple tech with expert qualified teams to reach and help people at a fraction of the cost. 
Cloudy Deliveries Wins Ayoba's R30,000 MVP Development Award for 'Most Ayoba Idea' 
Cloudy Deliveries is a township bicycle delivery service offering a logistical solution to a clearly defined need. Sponsor Ayoba awarded R30,000 to Cloudy Deliveries founder Colin Mkosi for the 'Most ayoba idea,' to go towards development of an MVP. The prize is an offshoot of the main competition.
Kena Health: A Digitized Solution for Africa's Lack of Access to Healthcare 
Kena's solution impacts real lives in Africa. Launched at the beginning of March, Kena's team have managed to build and launch their health care app business in a highly regulated and very sophisticated $37 billion industry. 
While the Telehealth care industry in South Africa is still in its infancy, the jury scored Kena highly on its ability to maneuver a business in a difficult landscape wracked with regulations.  Kena has a chance to change the landscape of affordable health care through technology, for tens of millions of people.
The company has secured ample funding and has fostered partnerships with Swedish company Webrock ventures; doktor.se, the go-to telecare app for the Swedish public. It also secured partnerships locally with Healthforce, a South Africa-based health tech company that tries to improve healthcare through multidisciplinary clinical teams through a blend of telemedicine and hands-on nurse care in pharmacies. Kena has also secured a partnership with Dischem, the largest pharmacy group in South Africa. The Kena Health app, launched only 6 weeks ago, already has over 10,000 downloads and is the number 1 rated healthcare app in the Google Play Store in SA.
"We have a big, hairy, audacious goal, and that is to care for 75 million people in 10 years across the continent," said Saul Kornik, CEO and Founder of Kena Health. "That's not just a number. Those are real people, most of whom currently do not have access because of how expensive quality care can be. We are relentlessly focused on lowering the cost of care – and in a way that actually improves quality. This award gives us fantastic exposure and expands the network that we need to succeed. The real work lies ahead," he said. 
The 2022 Start-up of the Year wins a trip to join the South African trade delegation to Stockholm, Sweden this year, along with a year's free membership to Innovation City Cape Town and a desk at Innovation City's partner Epicenter in Sweden.