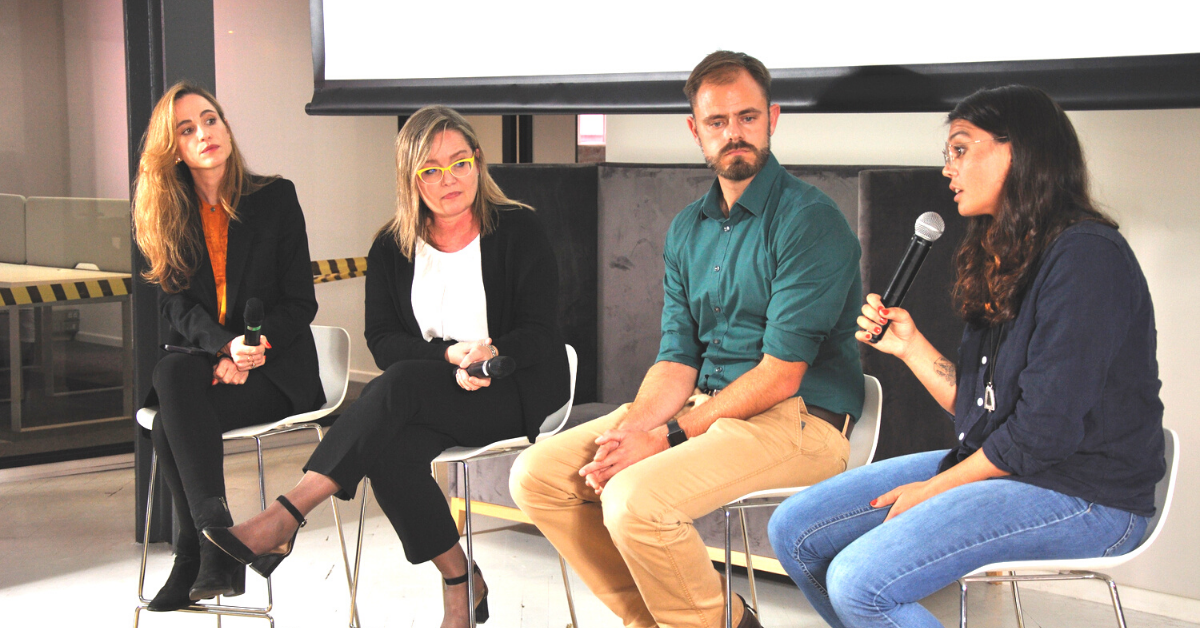 01 Jun

A Bright Future Ahead for Coding in South Africa

There's no doubt that tech is changing the world at a rapid rate. Future careers, across all disciplines, are more and more reliant on computer-based skills, while skills in data science in particular, are scarce and currently in high demand.   

Last year, the South African Basic Education sector released the Digital Skills Curriculum for Grades R to 9, which "aims to equip learners to contribute in a meaningful and successful way in a rapidly changing and transforming society," according to the Minister of Basic Education, Minister Angie Motshekga. Its full implementation will only encompass all grades across the country in 2023.   
What do you know about coding, actually?
Putting it simply, coding is the process of transforming ideas, solutions, and instructions into a language a computer can understand. But according to the panel of experts speaking at Innovation City's The Future of Coding in South Africa event, it's so much more than just writing code: 
"Coding infiltrates all aspects of life, and develops everything. It builds confidence, teaches resilience and tenacity," said Arlene Mulder, Co-founder of WeThinkCode, an effective platform for training youth in digital skills. 
Mulder started coding in high school (one of the very few girls who ventured into computers at that time), and went on to work at Rand Merchant Bank, where she realised that there was a need to make business and IT talk to each other. Coding is her superpower, she said, and she wants everyone to learn to do it.
Her enthusiasm for coding is mirrored by Gabi Immelman, Founder and CEO of Mindjoy, which offers online, small-group coding classes to anyone who wants to have some 'Hard Fun' (when the task is enjoyable because it is challenging). 
"It's all about creating experiences with kids. Kids will become digital citizens with rights and responsibilities, and we are currently developing workers not thinkers; coding inspires a different kind of learning," she said.   
The fact is, the traditional education model is outdated, and with the Department of Education still rolling out their plan to add coding to the curriculum, resources like Mindjoy and WeThinkCode are invaluable to parents who want to get their kids ahead of the future as early as possible.   
Reimagining Education 
Rallim Preparatory Modern Learning Environment is an innovative and unique school with a mission to redesign education through authentic visual, auditory and pedagogical means. Colleen Millar, Executive Head & Director at Rallim said her inspiration for starting the school came from experience working as a school inspector where she saw the need for change as the model is outdated.
"What do we do to prepare our kids for jobs that don't yet exist? There is an urgency and excitement to add a strong entrepreneurial spirit to our school, which is currently building its senior phase. We are going to have business pods and shared business working spaces, along with a cross-integration of subjects, just like in the real world," Millar said. 
Paul Roberts, Head of Operations at Rallim said: "We give the students a real-world problem and let them discover how to solve it via the coding language. But it's about concepts and understanding, then coding. In class, I hammer home learning the concepts and then getting the solutions. We can get grade 1s to learn the Macarena, and also debug the concepts as to why they can't do the Moonwalk!" 
Today's kids are very unmotivated to learn in the traditional environment, even when content and access to resources are abundant. According to Immelman, programming is an effective way for kids to stay motivated: "Learning and building are not separate. Programming is one of the closest things to art and being creative, that many people find self-expression through," she said.
In his book "Profiles of the Future: An Inquiry into the Limits of the Possible," science fiction writer Arthur C. Clarke famously quoted: "Any sufficiently advanced technology is indistinguishable from magic." And it seems to have the same delightful effect on kids as they learn to immerse themselves willingly into the task at hand. As Roberts said: "A coding school is a beautiful place to encourage people to fail forward." 
The Case for More 'Quality' Screen Time
How do we get more kids to code and get their parents on board? After all, every parent is worried about too much screen time. 
"It's qualitative. If it's intellectual, it's worth it – not all screen time is equal," Immelman said. Kids do tend to gravitate to spending screen time playing games rather than researching or reading up on things, so the challenge is always going to be how to make school a better game kids want to play. 
Luckily Elon Musk is making tech cool. Mulder said: "Fostering a sense of curiosity and the drive to see it through is of utmost importance." 
The new generations are not used to asking: Why does this work? To reduce the friction to get started with programming without being too painful, there are tools like Replit, which Mindjoy utilises to ensure more people experience programming so they are motivated to stay and delve into it deeper. 
Replit is a free, collaborative, in-browser Integrated Development Environment (IDE is software for building applications that combines common developer tools into a single Graphic User Interface). So basically you can use it to code on your smartphone. Immelman said that during a Mindjoy Hackathon (a coding get-together), when load shedding struck, the coders simply got their phones out to continue the challenge.
"There are many great tools that exist. We don't have to build so many new platforms.  Educators and parents are quite technophobic and that's a great shame. We need to create a space where people are celebrated for being brave in asking questions and partaking. We need to let kids discover everything as soon as possible!" Immelman said. 
What About the Teachers? 
There are a lot of questions around teachers and how equipped they may be to teach coding to kids who are mostly more tech savvy then their adult counterparts. Also, with the scarcity of software developers globally, it poses a real problem: Who will teach our kids these tech skills? Well, at WeThinkCode, there actually are no teachers: 
"If the robot walks – it works! You can figure it out. That's the joy of it. The question is how do we encourage the government to partner with our industry to provide resources for them to be able to get the chance to participate, and also encourage kids to collaborate via peer-to-peer learning," Mulder said. 
"Great pedagogy facilitates community. What we need is to engineer motivation. Can you create a system to find the ones that are succeeding and motivated? At Mindjoy, our teachers debug with the children.There are many 'Aha!' moments," Immelman said.  
A Coding Future for SA
And what of South Africa; a country with major educational complexities, problems and divisions? Changing the narrative around coding is the first step. And with the Department of Education's initiative, this seems to have at least started happening. But it needs to go further than that: Parents need to be supportive, encouraging and foster curiosity from a young age, for both boys and girls. It could be the very thing that closes the gender and social gaps that divide us.