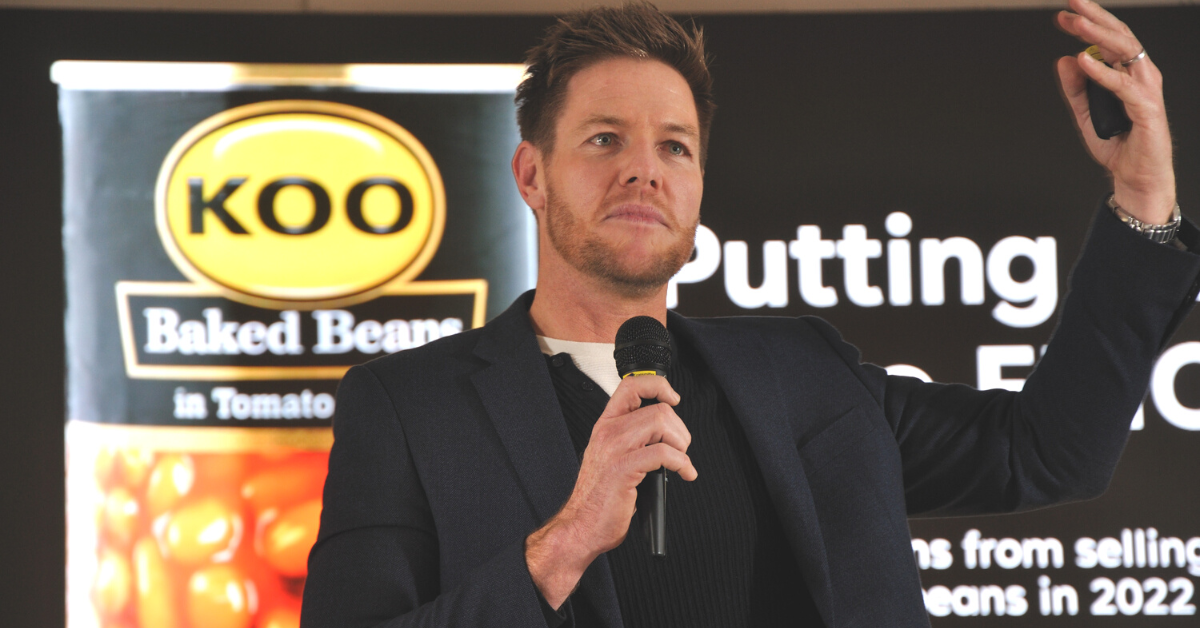 08 Jun

ShopriteX: Baked Beans Salesmen, Geniuses or Both?!

Neil Schreuder, Chief Strategy Officer of the Shoprite Group and MD of ShopriteX, the Shoprite Group's tech and innovation hub, calls the team 'humble baked beans salesmen,' but the group's impressive stats say otherwise: Shoprite has become Africa's largest retailer worth R168bn, with 1.12bn customers served, 7.6bn products sold in 2943 outlets, and at 149k employees, they're also the No1 private employer in SA.

"You're only as good as the last thing you sold," he said, discussing the relentlessness of competing in the FMCG industry. "There are notoriously thin margins. We make only 6.7c of every Rand for profit."

Schreuder and his team are working together from their HQ in Brackenfell to fuse data, tech and talent to make a 'smarter Shoprite':

"We try to build the best talent using cool tech to solve normal problems. No one is being innovative with the real South African consumer problem, which is a massive market. The understanding is that when consumers have money to spend, they want the best value for it, and need solutions. We strive to make connections to these customers in unique, innovative ways," he said.

The inspiration for ShopriteX's digital endeavors come from the humble independent spaza shops, mostly because they've learned to live on healthy margins, and charge what they should.
How do you get to know a billion customers intimately?

What is the secret to the success of Shoprite in tapping into a market often overlooked or undervalued? It is in their clever ability to serve up the very something the customer needs and desires.

"We were the first grocer to offer free funeral cover if you shopped 4 times in the store. Our tech unit at ShopriteX is always trying to solve real world problems. You need to get off your backside and see what's happening out there!" Schreuder exclaimed.

The Shoprite Group's mission is to make products accessible and affordable to its customers, and it certainly seems they are succeeding: A staggering 24 million adults signed up in just two years to their Xtra Savings Rewards Program, no small feat, considering they were last to join the rewards programs trend. "When we started, we didn't know who our customers were! It took us a year to get our convenience offering going," Schreuder said.

Putting customers at the heart of decision making

In a nutshell, people want instant discounts on the stuff they buy. To streamline the delivery of this process, the company has developed a fully digital, super easy sign up that anyone can do on WhatsApp in just 60 seconds.

"We collect the data underneath purely to better serve the customer. From this data, for instance, we get to know that what we call 'a moderate wellness shopper' often buys healthy food but also will fork out for a carton of cigarettes. So we endeavor to serve him something! Offer him what he wants. It's super powerful," Schreuder said.

Shoprite sends out 60 million personalized and unique offers every month: An incredible achievement, bearing in mind that they sell over 250K products. This has earned them their place in the world's top 10 retailers, winning 20 innovation awards to date.

Solving friction points

"The world of personalization is the future and we were the first retailer in the world to WhatsApp personalized stuff. In 2019 we had no real digital presence, sending generic PDFs to customers. Now we have digital reach to over 15 million customers. We had the 'first scaler' advantage, seeing 250% growth in online sales," Schreuder said.

Apart from personalization, they also pioneered 'quick commerce,' able to deliver groceries in minutes. Their personal record? 6 minutes and 15 seconds delivered in Virginia Circle, KwaZulu Natal!
"Innovation's most important ingredients are: 10% tech, 20% algorithms and 70% people. We don't do a lot of planning. We do a lot of forecasting. Agility means being poised for change; a team of people must be able to change direction in a matter of weeks. Our teams work in an interconnected way, and there's a lot of trust involved," Schreuder said.

Schreuder likens his team to the Pit Stop team in a Formula 1 race: "We're not driving the car. We are making fine tuning adjustments so our team can win the race," he said.
Proving value and always keeping the customer's hard-earned money in mind have always been at the forefront of their mission. Included is the desire to push South African entrepreneurs forward, partnering with various local companies, start-ups and black-owned tech businesses: "I don't believe in coincidence. Our time to shine is now," he said.