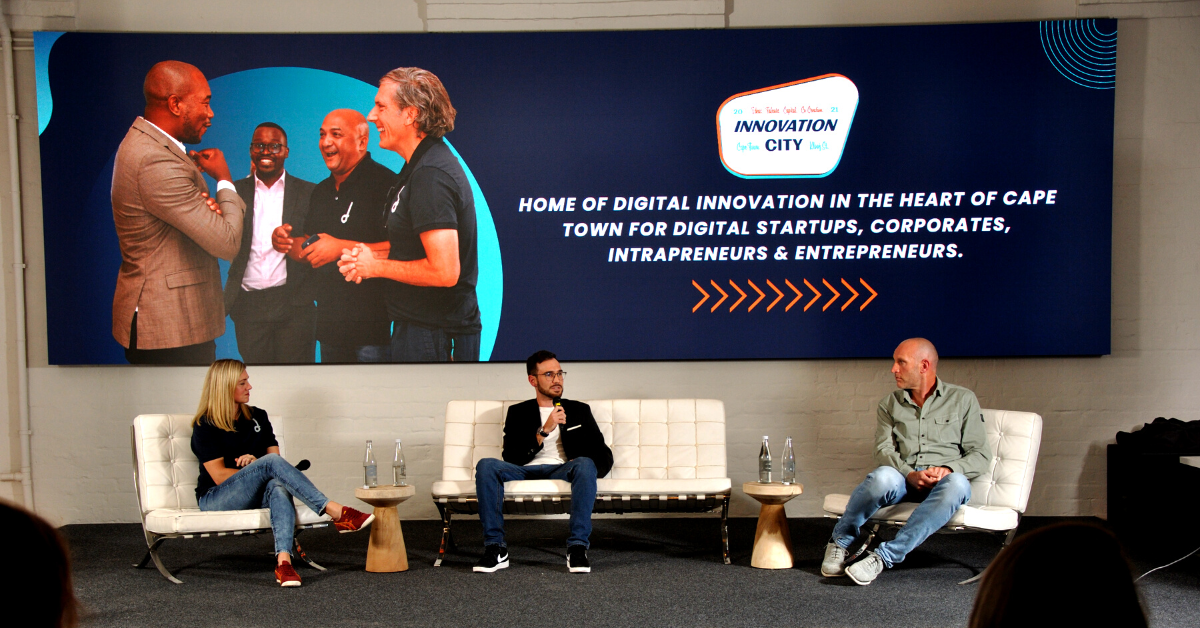 15 Jun

Sports Tech Entrepreneurs Defying Gravity

Global bike brand Specialized's Bobby Behan and Strove's Sales and Business Development Manager Joshua Fillmore talked to Innovation City MD Michelle Kleu about all things sports tech at Innovation City at our event on Thursday 9th June: 

Bobby Behan, Specialized 

Innovation City co-founder Stephan Ekbergh says entrepreneurs defy gravity, and he's not wrong; one rarely sees the blood, sweat, and tears it takes for these big dreamers to grow that unicorn horn.

And it was no different a journey for renowned global bicycle brand Specialized Bicycle Components: From humble beginnings growing up on a chicken farm in the US, founder Mike Sinyard has become one of the most influential individuals in the cycling industry, at the forefront of pioneering specialized tires and mountain bikes, and growing the sport of mountain biking and gravel racing globally.

"I think the reason why gravel racing and riding has taken off so much is that it's so much fun. It's as simple as that," Sinyard recently told Bike Perfect in an interview.

"It arches back to the early days of mountain biking, when people would take up riding simply for the love of it. Sure, there was a competitive aspect to early mountain biking too, but even that had a light-spirited aspect to it. Especially when you compare it to the road but there are some important driving forces behind the growth of gravel," he said.

In South Africa, Specialized is run by Bobby Behan, a rather Promethean-looking, kind-eyed Irish man who fell in love with Stellebosch and moved here for good. According to Behan, for decades, the world's top triathletes were coming to Stellenboch to train, and that's how he met Christoph Sauser, who has won a total of 10 World Cups and is 4-time Cape Epic champion. Sauser currently races on the Specialized Cross Country Team.

It was Sauser who convinced Behan to manage Specialized's global race teams: "He called me up and said the Specialized team was a mess and they needed someone to manage them. There were a thousand people vying for the job. He said: They're going to call you in 15 minutes and you're taking the job! And so I couldn't say no!" Behan said.

Behan ran worldwide athlete sports sponsorships for 7 years, but marketing was just spending money and the company had to do something to make money. Behan looked to giant companies like McDonald's and the motor industry for inspiration:

"Consistency is key. We wanted to make Specialized consistent with the high standard of components we offered. And we've now grown into Africa, but carefully and tactfully. The idea was that if the previous importer had 80 stores in the country, we would start at 25. The pie is so small, but if we sliced it up into bigger bites, and kept the brand exclusive, we could get retailers to sell Specialized exclusively. We turned them into modern bike shops," Behan said.

Under Behan's watch, Specialized has grown to 23 shops in South Africa, 2 in Namibia, and 1 in Mauritius. With South Africa's love for endurance and the sunny outdoors, Specialized SA will certainly keep innovating to convert more enthusiasts to the sport.

Joshua Fillmore, Strove

Joshua Fillmore prefers to read books on meditation, how to teach yourself better habits, as well as innovative business books that deliver messages which focus on health and wellbeing as part of the making money journey. It's clear that this obsession with health and wellness makes him the perfect person to head up Strove App's Sales and Business Development team.

The Strove app brings sports into the world of health tech by offering companies the opportunity to raise employee productivity and resilience through improved physical and mental wellbeing. Driven by the mission to create a healthier and happier world, the app was founded by Chris Bruchhausen, a technology enthusiast and passionate entrepreneur, experienced in the development of healthtech, fintech and software as a service businesses.

"Being a strong believer in the importance of physical and mental wellbeing, I decided to build a company that empowers employers and employees to lead healthier, happier and more balanced lives," Bruchhausen has said of Strove.

Strove strives to put employees's mental and physical health as the most important aspect of attaining a well-rounded and successful company: "Your employees are your greatest assets. Modern workplace 'hustle culture' is harming employee health and wellbeing with long hours, low physical activity and unhealthy habits driving chronic disease risk," Fillmore said.

Strove is bringing sports into the world of health tech by offering a platform with a range of physical activations, healthy competition and rewards programs, while collecting invaluable health data. This is people management from a health perspective, which ultimately drives the business forward:

"It's actually fun. Employees can see how they stack up against their colleagues, and find out who ran furthest, fastest. But that's not all: There's also meditation for stress and anxiety, sleep stories and soundscapes to listen to before bed, as well as a learning portal crammed with content on all things well-being," Fillmore said.

According to Fillmore, one of Strove's clients, Old Mutual, white labeled the app for their corporate division and has over 400 employees using the app successfully. "Old Mutual is giving their employees motivation and healthy competition on another level. They understand that driving healthy change will bring about multi-fold rewards," Fillmore said.

The Strove app has a monthly subscription and is compatible with Apple Health and Google Fit, with Fitbit, Garmin and Huawei integrations coming soon. "As long as you have a smartphone, you can track anything without any extra hardware," Fillmore said.

Strove is currently expanding into the UK and are testing new add-ons, like virtual counseling. "We aim to destigmatize talking about wellness in the workspace and promote having fun by fostering social interaction in the workplace," Fillmore said.