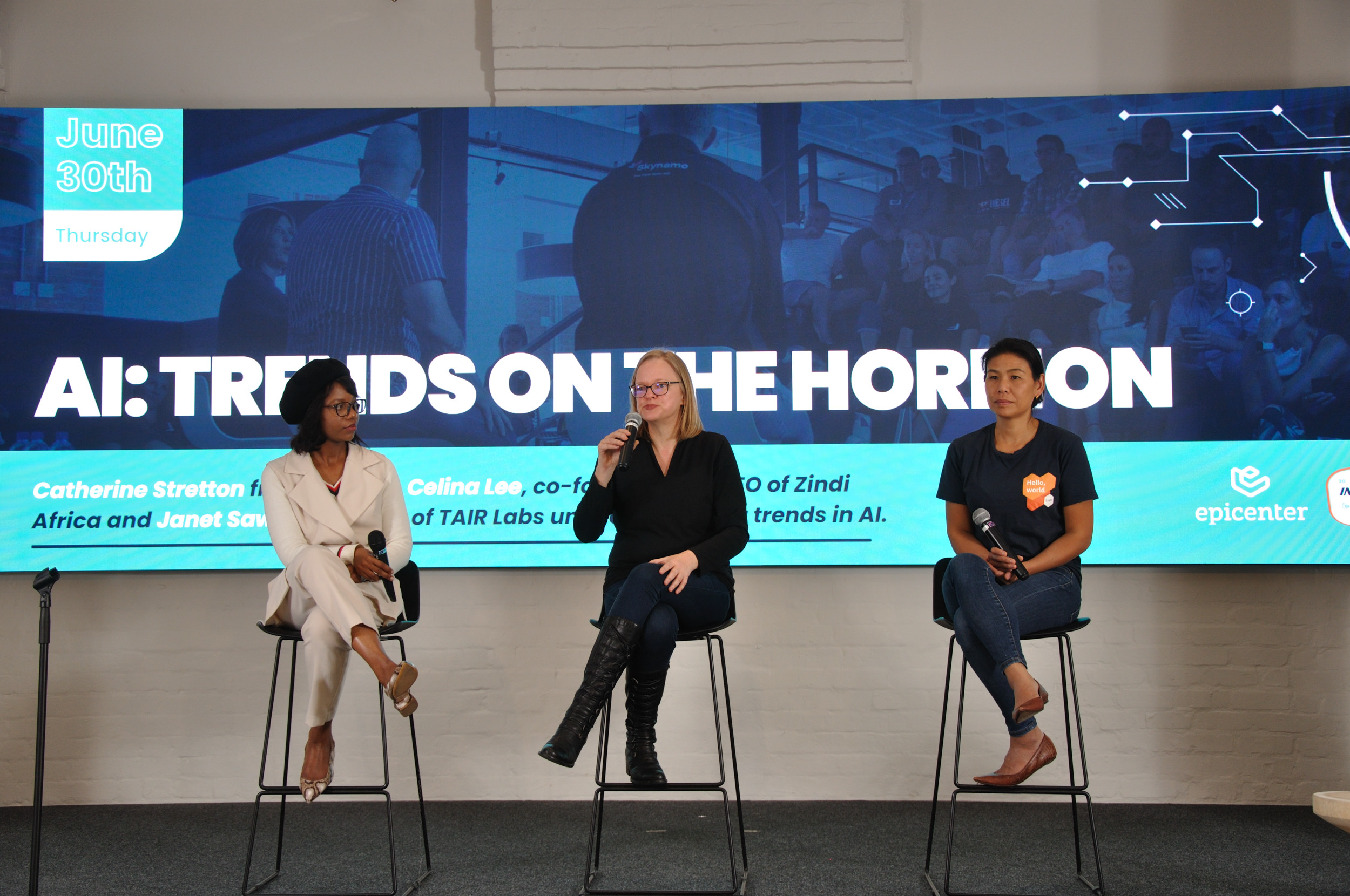 06 Jul

AI: Trends on the Horizon

We had an amazing and diverse mix of female AI specialists speak at our AI Trends event – from Africa to China and back again, here are a few takeaways worth pondering over.

Catherine Stretton, Chief Digital & Innovation Officer, Deloitte Africa

Presenting Deloitte Africa's tech trends for 2022, which has come out of 13 years of research, Chief Digital and Innovation Officer Catherine Stretton cited the following key trends in Artificial Intelligence:
The startup and scale up ecosystem will be the major global disruptor.
Data sharing will be simplified to the point that companies will be able to encrypt and share data without compromising privacy
The cloud is going vertical, enabling companies to fully and quickly integrate into any architecture
Bigger companies and banks will open up to third parties on a larger scale
The power of miniature will increase – the power of the chip doubles every 18 months at a similar price point
Productivity is decreasing – quantum computing will revolutionise that!
Africa will need specific AI-focused education to fuel the revolution!
Will AI take over human jobs? Not going to happen! People will be amalgamated into this future.
The silicon world has sights on Africa: The future workforce is here! With 4 million vacancies in the data space, developing markets have not caught up.
Celina Lee, Co-founder and CEO of Zindi
Zindi hosts the largest community of around 43,000 data scientists in Africa, working to make AI accessible to everyone whilst solving the world's most pressing challenges using machine learning and AI. Zindi connects data scientists with organisations, and provides a place to learn, hone skills, and find a job.
"We want to transform the African continent and showcase African data science talent to the world. 90% of data has been generated in the last two years alone! The question is how do we unlock the value of this immense amount of data?" Lee said.
Here are some examples of Zindi's AI/data science successes:
Reduced customer churn by 30% for Zimbabwe-based Insurance group Zimnat.
For AirQo Uganda, Africa's leading air quality monitoring, research and analytics network, Zindi data scientists took air particle sensor data and built algorithms around it to make sure people could use air quality data like a normal weather forecast.
For Fossil, Zindi's data scientists determined how many watches the company needed to produce four months into the future.
With Zindi's offering of cloud-sourced solutions, a vetted pool of amazing talent and brand building, Zindi works to propel Africa into the future.
"We see ourselves in the business of creating connections and space. We want everyone to have a seat at the table with space to produce solutions that will impact all of us. Data science is a team sport on Zindi!" Lee said.
Janet Sawari, TAIR
Young yet wise beyond her years, Janet Sawari spent 7 years in China in the enterprising startups sector. One of the largest AI companies in the world, Baidu, Inc. a Chinese multinational technology company specialising in Internet-related services, products and artificial intelligence, adopted one of her models and with it developed the Apollo, which is the world's largest open-source autonomous driving platform.
"We had many starts and many failures with our products and hacking solutions. I realised the mistake we were making stemmed from trying to intersect the ecosystem, and not try to fit into the model. I realised if we were to build AI solutions at scale, we needed to develop our own ecosystem and model," she said.
Her focus is on using AI to find solutions for mobility in African countries, an idea that came to her while being stuck in traffic for hours in Lagos, Nigeria. She is currently working on a docuseries around Africa to highlight different aspects of mobility and the specifically African problems associated with it.
According to Sawari, 40 of 54 countries on the African continent have the highest road fatality rates in the world. "I want to find opportunities on the continent within the AI space: By 2050, 80% of world vehicle sales are expected to be electric, and with that, AI adoption and implementation as well. We need frameworks and models to succeed and catch up globally. And we need ample investment," she said.
Sawari's company TAIR is currently in the process of setting up 55 AI research and data science labs across Africa, starting with 250 students training in Soweto. The task will not be an easy one, but Sawari is optimistic:
"Hardware is important, but so is diversity and inclusion. We will always strive to create policies and frameworks in a fair and ethical way. Actually, what we all need is a bit of guanxi!" she said. (Guanxi is a Chinese word for the system of social networks and influential relationships which facilitate business and other dealings.)