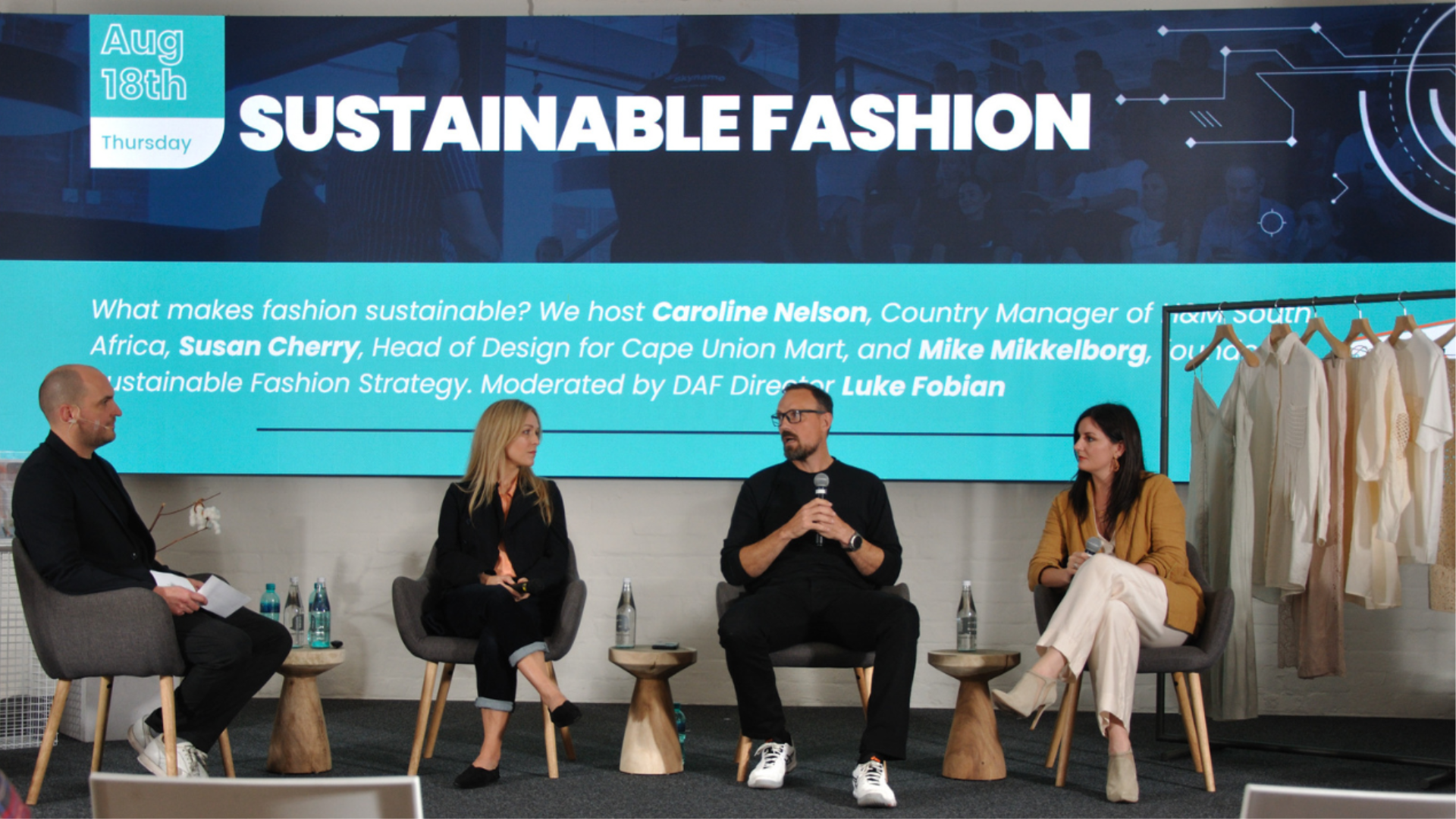 23 Sep

What's Happening With Sustainable Fashion in SA?

We recently had the pleasure of hosting a panel discussion on sustainable fashion, which included reps from local SA fashion brand Cape Union Mart, international fashion giant H&M, and a global sustainable fashion consultant and founder of Sustainable Fashion Strategy. The panel was moderated expertly by Luke Fobian, co-founder of Cape Town's premier fashion design school Design Academy of Fashion (DAF). 
Cancel Culture on Sustainable Fashion – Damned if You Do
What an eye-opener. There are quite a few unobvious things about this topic that one just doesn't think about. For instance, there is a 100% chance of backlash from people when a fashion company even attempts to be sustainable. According to Mike Mikkelborg of Sustainable Fashion Strategy, fashion brands put themselves on the line when showcasing sustainability. Cancel culture is rife everywhere, it seems. It's just preposterous to think that attempting to be transparent in their processes leads to discouragement by fanatical naysayers.
I wondered why this case of 'damned if you do, damned if you don't' actually happens. After all, there is ample evidence that the new generation of consumers are being very vocal about wanting and opting to buy sustainable fashion. But ever since 'The Devil Wears Prada,' cancel culture in the fashion industry has been a social media staple. But come on, man: Why cancel attempts at sustainability?  
It's Not About Class 
There are many issues with the movement; accessibility, inclusivity, and lack of emphasis on worker's rights. In fact, sustainability in fashion originated from fighting social injustice by championing human rights and advocating for fair pay. 
But there is also the problem of class. There is a generalization that sustainable fashion is expensive and inaccessible and therefore classist as a result. But this is not really true. Look at H&M, one of the world's most recognizable fast fashion brands, long the target of widespread concern amongst supporters of ethical fashion; their green label collections in stores are no more expensive in comparison to their other 'less sustainable' collections. 
The company has set a science-based target to reduce its greenhouse gas emissions and pledged to use 100% recycled or sustainable materials by 2030. According to Caroline Nelson, Country Manager of H&M South Africa, the brand has a recycling program where you can return old clothes in-store. It also uses renewable energy for part of its supply chain, along with a policy to prevent deforestation of ancient and endangered forests. They strive to use some eco-friendly materials like organic cotton and recycled polyester in some products. 
Enough to Make A Difference?
In 2020, there were 100 billion garments made, of which 35 billion were NOT sold. The majority of the materials the industry uses are not eco-friendly, and most brands, including H&M, still operate under a fast fashion business model. 
In South Africa, companies like Cape Union Mart are also trying to become more and more sustainable, using predominantly ethically sourced materials, supporting local suppliers and communities, creating jobs, and establishing green factories. 44% of their K-Way range is made of sustainable materials. But there's still a long way to go. Susan Cherry, Head of Design for Cape Union Mart said: 
"Our focus is to ensure we extend the lifespan of all fabrics so you don't have to buy them often." Cherry held up a pair of gloves that were apparently more than 20 years old as proof. For items that do deteriorate from wear, however, Cape Union Mart offers garment repairs by hosting 'Repair Cafes' to promote longevity.  
Fashion Tech to the Rescue!
Mike Mikkelborg, founder of Sustainable Fashion Strategy believes using tech to hone in on distinct customer fashion desires will go a long way in decreasing the billions of unsold fashion items. 
H&M's Circulator machine is a great example of 'Fashion tech' used for good. By designing with circularity in mind, designers are guided by the machine on which materials, components, and design strategies are best suited for their product, based on the product's purpose, and then scoring the components according to their environmental impact, durability, and recyclability. The score will determine where the product can be tweaked to make it even more circular. The company hopes to empower all of their teams with this tool, and aims to design all products for circularity by 2025. 
What Can We Do To Help?
We don't want to clutter the world with fast fashion, so what can we do? Apart from buying vintage, thrifting and repurposing your old clothes, there are other important ways to help the movement. These include lobbying the government to jumpstart the manufacture of fabrics in South Africa once again. 
Decades ago, South Africans made beautiful textiles and had a very successful industry until the cheap imports from China and India all but killed the local industry. It's time to bring it back!  Companies like The Foschini Group are buying collections from local suppliers, thus feeding the local footprint. 
Companies should offer rewards for sustainability efforts. Mikkelborg cited the Swedish plastic bottle initiative, where consumers who deposited used plastic bottles into a machine were rewarded for the effort. He also strongly suggests that retailers should pool resources together and discuss and implement positive sustainability initiatives, without being secretive and competitive. It's our planet at stake, after all!
Finally, it goes without saying: Don't buy cheap goods. They simply don't last long. According to Nelson, even halving the current effect will make significant change.