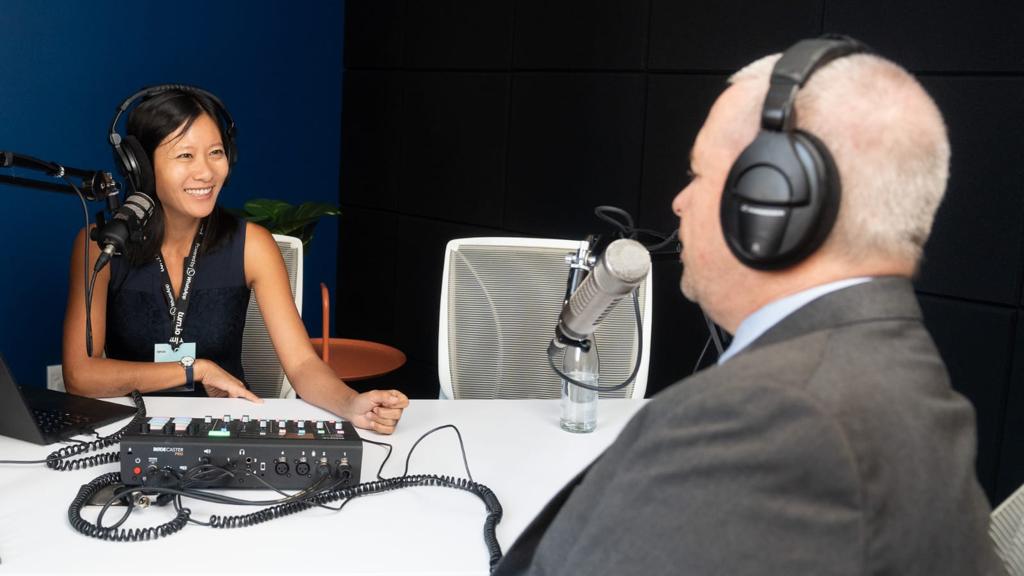 11 Jan

Best Podcasts to Listen to in 2023

Let's get ready to tackle 2023 with a bevy of interesting business, health and wellness, spiritual, intelligent and even controversial information and insight you can gain from our list of favourite podcasts to listen to this year!
All About the Biz…
The Kieno Kammies Show
Yes of course we are biased! Our co-founder and veteran journalist Kieno Kammies brings his incredible network and experience into this very informative lunchtime podcast which deals with specifically South African and African business issues, and monitors disruption in African tech.
How I Built This – Hosted by Guy Raz
This is a masterclass on innovation, creativity, leadership and how to navigate challenges of all kinds. Guy Raz is an award-winning reporter, podcast host, and creator. His podcast features some of the most successful entrepreneurs. Each episode contains the story of the trials and challenges these entrepreneurs have experienced and their stories of triumph.
The Tim Ferriss Show
Tim Ferriss is a self-experimenter and bestselling author, best known for The 4-Hour Workweek, which has been translated into 40+ languages. Newsweek calls him "the world's best human guinea pig," and The New York Times calls him "a cross between Jack Welch and a Buddhist monk." In this show, he deconstructs world-class performers from eclectic areas (investing, chess, pro sports, etc.), digging deep to find the tools, tactics, and tricks that listeners can use.
The Diary Of A CEO with Steven Bartlett
A few years ago Steven was a broke, university dropout, living in a studio-flat in a rough area. At 18 he started a company which would eventually become "Social Chain" – an industry leading marketing company. At 26 the company was generating $600m a year in revenue. At 27 he resigned as CEO, and launched 'The Diary Of A CEO' podcast with the simple mission of un-filtering success and giving you the knowledge you need to create the life you want.
Startup Stories – Mixergy hosted by Andrew Warner
Andrew's guests share incredible stories from the world of start-ups! Andrew leads meaningful conversations with his guests, inviting "proven entrepreneurs" to answer important questions other start-up entrepreneurs might need advice on. If you want honest and meaningful insights from successful start-up business owners, then Startup Stories is a podcast that's definitely worth a listen.
The Mashstartup Podcast
This podcast explores practical learnings and candid journeys of Africa's emerging entrepreneurs and creators, profiling the most talented creators, impactful entrepreneurs & high performing professionals with the purpose to drive insights and tactics to help you build what you believe in.
The Global Leadership Podcast
The Global Leadership Podcast brings you insightful conversations with dynamic guests who share reflections from their journey as a leader, including their values, mistakes, and advice.
The Memo by Howard Marks
On October 12, 1990, Oaktree Co-Chairman Howard Marks published his first memo to clients. In the decades since, he has periodically released memos reflecting his viewpoint on the investment landscape, as well as more general business insights.
Sales Influence – Why People Buy!
Today's buyer is more informed and more skeptical when it comes to buying. This podcast discusses "Finding the Why in How Clients Buy" by using the latest studies in consumer behavior and neuromarketing to sell more effectively.
Be Well…
Choose Strong
Choose Strong is about choosing strength over fear in every situation in life. The podcast is filled with candid insight and interviews from host Sally McRae. As a pro athlete, wife, mother, and business owner, Sally seeks to encourage others to live a strong and courageous life.
Rich Roll Podcast – Unlock Your Best Self
Each week Rich delves deep into all things wellness with some of the brightest and most forward thinking, paradigm busting minds in health, fitness, nutrition, art, entertainment, entrepreneurship & spirituality. A weekly aural dance designed to provoke, educate, inspire and empower you to discover, uncover, unlock and unleash your best, most authentic self.
TRAINED – Nike
Mindset. Movement. Nutrition. Recovery. Sleep. Turns out the same five tools that pro athletes use to break records can help us all stay healthy, happy and strong. On "Trained," host Jaclyn Byrer sits down with these athletes — along with psychologists, researchers, physicians, trainers and other experts — to reveal the most powerful, practical and surprising lessons in holistic fitness.
Learn Something…
The Intelligence
The Intelligence is a current-affairs podcast, published every weekday by Economist Radio, that provides a fresh perspective on the events shaping your world.
No Such Thing As A Fish
Award-winning podcast from the QI offices in which the writers of the hit BBC show discuss the best things they've found out this week.
The Long Now: Seminars About Long-term Thinking
Explore hundreds of lectures by scientists, historians, artists, entrepreneurs, and more through The Long Now Foundation's award-winning lecture series, curated and hosted by Long Now co-founder Stewart Brand (creator of the Whole Earth Catalog). Recorded live in San Francisco each month since 02003, past speakers include Brian Eno, Neil Gaiman, Sylvia Earle, Daniel Kahneman, Jennifer Pahlka, Steven Johnson, and many more.
You Are Not So Smart
You Are Not So Smart is a show about psychology that celebrates science and self delusion. In each episode, we explore what we've learned so far about reasoning, biases, judgments, and decision-making.
Go Deep…
The Jordan B Peterson Podcast
The Jordan B Peterson Podcast (archive below) features audio versions of some of the most popular and compelling of Dr. Peterson's interviews with some of the world's most compelling thinkers, lectures from the 12 Rules for Life tour unavailable anywhere else, as well as an assortment of audience Q and A's (a particularly popular feature.)
Better the Devil You Know…
The Joe Rogan Experience
The Joe Rogan Experience podcast is a long form conversation hosted by comedian Joe Rogan with friends and guests that have included comedians, actors, musicians, MMA fighters, authors, artists, and beyond. One of the things that makes Joe Rogan so popular among his millions of fans is that his politics are so difficult to pin down. Rather than simply and easily slotting into a box labeled "conservative," "liberal," or even "reactionary," he mainly holds both the far right and the far left in contempt; depending on which day you check in, he's either a left-leaning centrist or a right-leaning libertarian. But his contrarian tendencies lead him to embrace and toy with lots of ideas, including those from the fringe.