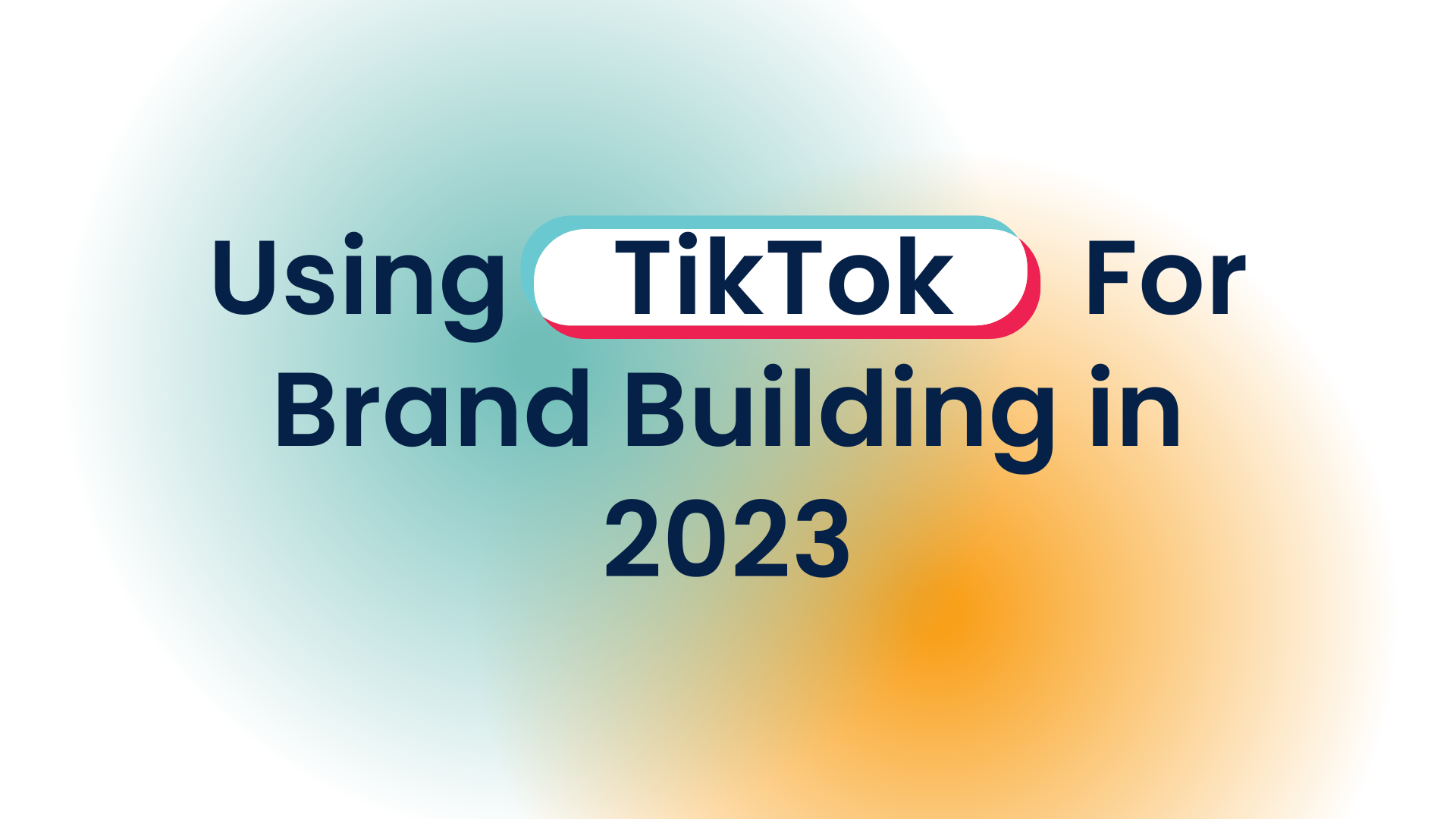 06 Feb

Using TikTok For Brand Building in 2023

Okay, it's official: you can't ignore TikTok anymore.

It's the number one most downloaded app worldwide. This isn't a fad — it's a social media phenomenon.

These days, brands can't afford to miss out on the exciting opportunities TikTok has to offer. Whether TikTok is already part of your marketing strategy or you are just getting started, this article will give you a few pointers on how to use TikTok for brand building.
What is TikTok?
TikTok is a social media site, just like Instagram, Facebook, and Twitter, that aims to bring people together. It's all about short-form videos. Users can upload and edit videos up to a minute long — the more quirky and entertaining, the better.
The Benefits of TikTok for Brand Building
Brands that already have a strong presence on TikTok are currently reaping the rewards. However, it's not too late to get started and, if you haven't already, you should strongly consider adding it to your social media and digital marketing arsenal.
TikTok boasts a huge global reach. Brands across all industries are tapping into TikTok's global audience to generate brand awareness. On TikTok, it is much easier to go viral compared to other platforms. The fun, engaging nature of TikTok content means people don't simply get exposed to your brand, they start thinking and talking about you, too.
K18, a haircare brand, turned to TikTok as a way to build awareness quickly. K18 partnered with TikTok creators like Heidi D'Amelio and Mikayla Nogueira, who showed their hair in a before and after tutorial-style video. The brand grew its account from 2,000 followers to 20,000 and its campaign hashtag #K18Hair was viewed over 73 million times.
Looking to remind your customers how awesome you are and show them your less-serious side? TikTok offers a great opportunity to share fun, snackable content with your audience that allows you to position your brand in a new way.
For example, the NBA was an early adopter of TikTok and now boasts an incredible 18.3 million followers on TikTok (as of January 2023), more than any other sports league.
The NBA's TikTok profile takes fans behind the scenes, showing videos showcasing all the adventures their various mascots get up to. The content is more "real" compared to their presence on other platforms, which is more polished, offering fans a more intimate way to connect with their favorite NBA athletes.
How does Generation Z feel about your brand? Only 10% of teenagers feel that Facebook is their preferred form of social media — meaning that brands looking to target younger audiences are better off focusing their efforts on TikTok.
Maybelline launched a TikTok marketing campaign to expand its traditional target audience of mature women and win over the younger generation. To promote its flagship Volume Express Hyper Curl Mascara, Maybelline invited a popular influencer, Reiko, to film a video called "Mascara Boyfriend". The key message was that eyelashes — just like boyfriends — are not always what you want them to be.
The fun video resonated with the younger target audience, and Maybelline increased its brand awareness by 80%.
TikTok can benefit your brand at every stage of the funnel, including sales and revenue. It is not just an awareness channel. In fact, 92% of users have taken action after watching TikTok.
Cosmetics brand Too Faced ran a TikTok campaign in the UK to increase sales of their "Lip Injection Extreme" lip gloss. The brand opted for a Brand Takeover ad which, upon opening TikTok, presented a full-screen video for five seconds and showed users the "before" and "after" results of using their product, inviting Gen Z females to "shop the look".
Too Faced's Brand Takeover ad generated 7.6 million impressions in one day and drove 1.3 million clicks to the product page. Now that's a great brand marketing campaign!
Many popular content creators have a small yet dedicated niche audience in their location or niche. Known as micro-influencers, they may not have the largest follower count, but they are very popular and highly respected in their area.
Collaborating with micro-influencers can be useful for small, local brands or brands seeking to build a stronger presence in a particular location. Much like working with massive Instagram influencers, you can reach out to micro-influencers who are influential and well-known in your local area.
An example of a larger brand taking advantage of this strategy is Sony Music. During a campaign across Spain, Italy, and Argentina, the brand teamed up with 12 influencers to promote the Nicky Jam x Sch song.
Eight million users engaged with this content and around 10,300 user-generated videos were created that helped the song go viral.
On TikTok, the aim of most users is to go viral — so expect hilarious, meme-driven videos that are created to grab people's attention. Once a user has uploaded their video, they can also add various filters as well as tracks from a huge music library.
It's these extra edits and additions that can help videos go viral. Alternatively, videos on Instagram usually aren't so "in-your-face" and range widely from informative and educational content to AMAs and YouTube-style shopping hauls.
Clearly, the content generated by each platform is meant to appeal to their slightly different age groups.
How to Build Your Brand with TikTok
At face value, TikTok may appear like it's been made solely for fun and games. After all, it's the go-to app for meme-making teens trying to go viral.
But — as the examples above show — when brands venture onto this new social media platform, they can reap the rewards.
So, how exactly can you use TikTok to start building your brand? Here are some tips to help you make it big on this new app.
1. Use Analytics and Trends to Be Featured on the "For You" Page
When you sign up to TikTok, you can choose either a free profile or pay for their Pro account. It's much better to go straight for the Pro, as it will provide you access to analytics for the app.
You'll see insights on who is watching and sharing your videos, which can be extremely useful as there is still little known about the TikTok algorithm at the moment. But, we do know how vital it is to try and get onto the mega-popular "For You" page.
The "For You" page is just like Instagram's "Discover" page. It shows a collection of posts from accounts that are similar to the ones a user already follows. This is a brilliant way to increase brand awareness, as TikTok is literally telling users to follow you.
Your future exposure is largely based on the performance of previous videos. So, if your very first TikTok video manages to go viral, then you're off to a fantastic start! As soon as a new video is published, it's shown to a small number of users. If these users like it and interact with it, then TikTok will open it up to even more people.
Your geographical location also matters. Once a video goes live, it's usually only shown to users in the same country. This is good news for smaller brands that are trying to improve their localization marketing.
Bigger brands might see this as a disadvantage. However, if your video does well in the initial geo-location it's been shared to, then it will start to make its way to locations further afield. So, as long as your video is engaging, there's no need for bigger brands to worry!
Additionally, it's always a good idea to use hashtags and sound effects, as they both help videos go viral. Why hashtags? Adding them makes it possible for videos to show up on Discovery pages — it's even believed that using #foryou, #foryoupage, and #fyp can increase a video's chances of making it big on the "For You" page.
Videos can go viral at any time, even ones that were uploaded a long time ago — meaning content on TikTok has a much longer shelf life than it does on Instagram. Every video's performance is tracked by its algorithm. So, there's a good chance that a video from a month ago could start to gain some serious traction if it suddenly starts to perform well.
If you follow the latest trends, post regularly, and use insights from TikTok analytics to identify the kinds of content your target audience wants to see, then you'll have a greater chance of making it onto the "For You" page — the ultimate goal for every brand, as it makes them so much more discoverable.
2. Make Sure All Posts Benefit Brand Awareness & Engagement
Brand awareness and engagement should always be at the forefront of your mind when creating content for TikTok.
This shouldn't be all that difficult seeing as there are a number of TikTok features and trends that you'll be able to jump on to help get your brand name out there.
And when engaging in the brand building process, it's also important that you keep your brand voice and brand story top of mind. Consistency is key to building brand awareness.
3. Advertise on Tiktok
In addition to building an organic presence, it's also worth trying out TikTok Ads. There are a variety of different ad formats available, depending on your goals and budget.
A brand takeover ad is shown to your target audience as soon as they open the app, featuring a clickable link. This highly desirable, visible format stays live for one day. However, at $50,000 per day for 5 million impressions guaranteed, this option may be out of reach for many brands.
If the brand takeover ad is out of your budget, you can try in-feed ads. These are native video ads that appear between user-generated content and can be anywhere between 9 – 15 seconds long. At $10 per impression (minimum 600 impressions prepaid), this is a more budget-friendly option.
The only downside to these ads is that users are allowed to skip them. However, this only encourages your brand to create engaging adverts that your audience will want to see!
4. Create Branded Face Filters and Lenses
Just like Snapchat, TikTok allows brands to create their very own face filters and lenses. These are live for 10 days and permit users to add them to their own content. An impressive 64% of users have used face filters before, as they are a creative way to mix up their videos.
Make a cool, fun filter or lens, and remember to incorporate your brand identity — so that when people use it in their videos, their followers will see your branding, too. This creates a ripple effect that could have thousands of users trying out your filters and lenses and spreading your branding around the platform.
You can even partner with TikTok to create 2D and 3D branded lenses. Partnering with TikTok means that the lenses will appear in the "Trending" tab for 10 days. However, this is another pricey form of promotion, as it can cost between $80,000-$120,000 depending on how complex the lens design is.
5. Use Hashtag Challenges
You have two options here: you can come up with your own hashtag and encourage followers to use it or you could participate in a current challenge that is making the rounds.
If the challenge goes viral, then hundreds of thousands of users will become familiar with your brand. Around a third of users have participated in these kinds of challenges before, making them a popular route for going viral.
One of TikTok's best-performing brand challenges came from Chipotle, in which they encouraged fans to post videos of themselves dancing along with the hashtag #GuacDance.
Another example is the clothing line Guess. Although they may not have as many videos up as other brands, they've still attracted an impressive 75,500 followers. This could all be down to the very successful #InMyDenim hashtag, which they use to encourage followers to show off their Guess clothing.
6. Use Viral Music
Take a look at the videos with the tag #ThisIsBliss, and you'll notice one thing: they all use the same music.
This skincare brand, Bliss, created their very own piece of music for users to add to their videos alongside the hashtag, which quickly went viral.
7. Team Up with Influencers
Just like Instagram, TikTok has its own set of extremely popular influencers. To put this into perspective, at least 40 TikTok stars have more than 10 million followers.
While you might not be able to partner with such big names, look for TikTok users that have tens of thousands of followers. It's still worth implementing an influencer marketing strategy with these "micro-influencers".
Take a look at Red Bull's work with influencer C9 Keeoh for some inspiration!
8. Go Live
Going live is a great way to increase engagement with your fans, but keep in mind that you'll need at least 1,000 followers to do so.
By going live, you give followers the chance to interact with you, ask questions, and get a better, more authentic feel for your brand personality.
TikTok isn't just a place for teenagers to go viral. The wildly-popular app shows no signs of slowing down and will be a key focus for brands across almost all industries in 2023.
Source: Latana