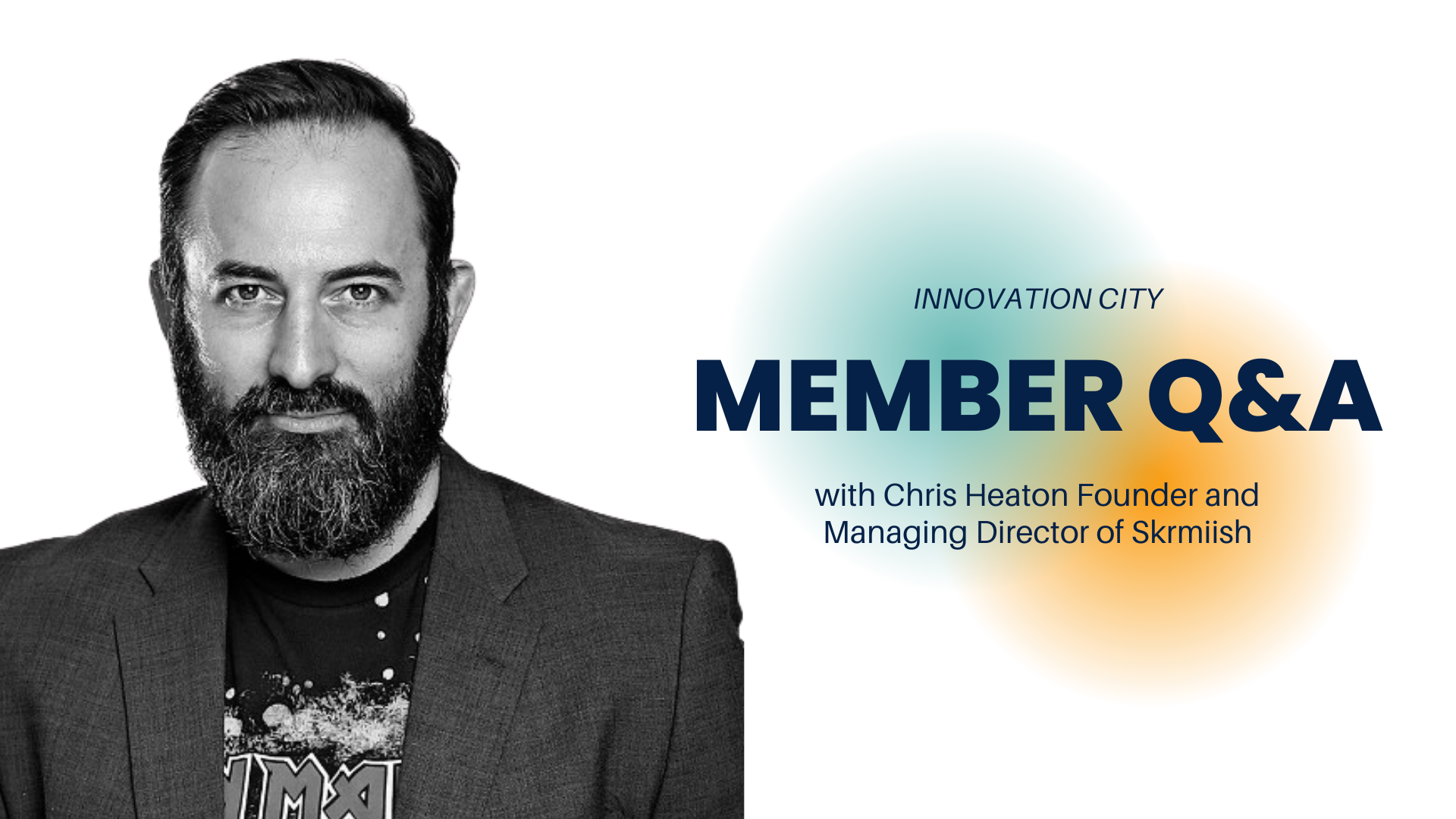 07 Feb

Skrmiish Provides Inclusive Opportunity for Gamers to Earn While Playing Games They Love

Chris Heaton is the Founder & Managing Director of Skrmiish, a gaming app which provides unique Play-to-Earn technology that enables gamers to choose from hundreds of personalised & on-demand challenges to complete in their next match. This adds a layer of excitement and more importantly, gives them the ability to earn cash in every match they play. 

About the Founder: 

Over the last two decades Chris has built sports specialist agency Brand inc, digital and ecommerce agency Sportal and SA Esports Industry, focusing on gaming industry development in South Africa. He has worked with Belgian sports technology company Optimy and high profile brands like the Springboks, Orlando Pirates FC, Vodacom, Asics, Unilever, Shield, Vaseline, Discovery, Nashua, Umbro and the Cape Epic. Chris takes +20 years' worth of business and brand building, marketing and advertising experience to drive the Skrmiish brand, marketing and customer acquisition.

"I am pleased to say that this department is over performing, with incredible scaling performance at an eye-wateringly low cost." Chris Heaton

Q: Who are you guys as a company and on the whole, and why are you sorely needed in this world?

A: Skrmiish is targeting the trillions of unique matches played on video games annually. The current environment doesn't provide an inclusive opportunity for gamers to earn while playing the games they love. Earning is limited exclusively to the pros and 'million-dollar' streamers that make up only 1% of the market. 

Q: What exciting news do you have to share?  

A: We are on the tail-end of a $2,8m seed round raise and 5 months into monetisation showing 300% M-o-M growth. Deployed in the UK, EU and Nordics currently. NA, LA, Africa and Asia coming on line over the next 24 months.

Q: Where did the business concept originate and how has the journey been so far? 

A: The Skrmiish business concept originated while trying to identify the best commercial opportunity in the local gaming market. At the time (2018) I was unconvinced that there was a sustainable business opportunity in the creative or commercial space of esports and gaming in SA. The community seemed to be very closed to "outsiders" coming in to help grow the industry. The "holier than now" attitude was a real turn off.

I started to talk to Roland about the online poker model, and how the likes of Pokerstars had democratised the game of poker about 20 years ago. Using some really great technology, they gave poker players around the world the ability to play poker for fun or cash from anywhere. 

Previously you had to go into a casino, register for a big tournament or have a social game with friends to be able to play. My thinking was, could we do this for the gaming world? And was there anything like this out there in the global market? Back then there wasn't much that catered for the casuals, the vast majority of the market. There were a lot of structured tournament platforms like Faceit that offered a very exclusive experience, catering for the best of the best to play in sponsored cash tournaments. 

Then there was this company in the US called Players' Lounge. They offered a peer-2-peer wagering model of play which was what I had envisaged as a solution for this market. The site wasn't great. The experience is clunky. But they had some big names that had invested in them to get going like Drake and Strauss Zelnick. If you don't know this already, Zelnick is the CEO of Take-Two Interactive that owns Rockstar Games, 2K Games and Zynga to name but a few. Grand Theft Auto probably being their biggest and most successful title.

My next step was to first put some numbers together to see if this would be a viable business if we got it right, and second, was it possible to build the tech to do what we wanted it to do with the help of some super smart techies.

From that point, it has been one helluva rollercoaster ride of being strung along by cowboys that think they have money to invest when they don't, building a POC, raising some money, further building out the POC, raising more money, pushing an app onto the App Store (hollow high 5's all round), raising more money, further bootstrapping and building this POC out to a fragile piece of tech that we could push into market and see if some streamers would like to play on it with their fans, which they did.

At this point we had now validated that there was appetite from gamers and streamers around the world to play on this kind of platform, even if it was filipin' hard to download, connect and finally get playing with our clunky bootstrapped POC. So at this point we decided to re-build. Make it simpler with better and more streamlined technology – bringing everything together into an app. We also built a digital wallet system on the layer 2 blockchain that would allow for much faster and more cost effective transactions. 

The final piece, and probably the most important part was to adapt the playing model into what we call a player-vs-house (PvH) approach. Before it was free tournament and player-vs-player or peer-to-peer wagering focused. Now with PvH, we no longer required any form of excessive player liquidity to function successfully or require the extensive amount of capital to acquire the player liquidity.

Since re-launching the PvH focused app, the product has started to fly with 300% M-o-M growth across paying players and handles.

Q: Anything interesting happening in the future for Skrmiish? 

A: Yes, we will be releasing further titles onto the platform. We have been very Fortnite focussed up until now, but this year we will add Valorant, League of Legends, Apex, CS:GO, Dota2 and others.

Q: Can you give us a practical example of how Skrmiish works?

A: Video gamers spend 1000s of hours playing their favourite games with no way of monetising those hard earned and practised skills. With Skrmiish, gamers can now choose from a range of in-game challenges (ie. Get 5 kills & end top 10 or Get 10 kills & end top 5) in their very next match and stand to win a real cash prize should they successfully complete those challenges. Cash prizes are determined by the player's entry fee combined with their Skrmiish-generated MoneyMatch Rating (MMR).

Q: What are some of the challenges you've faced as a startup in South Africa?

 A: From developing an idea into something of substance, to raising capital, to running out of capital and having to raise more capital… numerous times. To dealing with "cowboys" that think they are loaded and want to invest, but actually they have nothing but the ability to waste a lot of precious time and energy – Yes, I have some horror stories, to remaining very focussed on single minded idea without getting distracted by trying to do too much.

I think that the challenges we have faced as a startup in SA are very common to all startups. But I truly believe that all these challenges make you more resilient every step of the way. They make you better at what you do. They remind you of why you are here doing what you do. I often take stock of how far we have come and say to myself and the team, that if this shit was easy, everyone would do it.

Q: Who or what has been your most helpful ally?

A: Surrounding myself with incredible people that are way better at certain things than I am.

Q: What's on your business growth wish list?

A: Acquiring even more exceptional talent to help us accelerate the business forward.

Q: What is your take on doing business in South Africa? 

 A: South Africa is probably one of the easiest countries in the world to get a business setup. You can have a company registered with an active bank account in less than 48 hours, which from a global POV is incredibly fast. Making that business successful is another story. It will takes years of hard work and sacrifice to get it right, and even then, if you are not top of your game, you can be crushed by market volatility, client's going onto the next best thing or dumping you as a service provider because there is a change of personal or strategy.

Visit www.skrmiish.gg or email [email protected] or come pop in to their studio at Innovation City and say hi to the team. Chris says: Let's have a Skrmiish on our Arcade machine with over 6000 game titles. And a beer or glass of champagne!