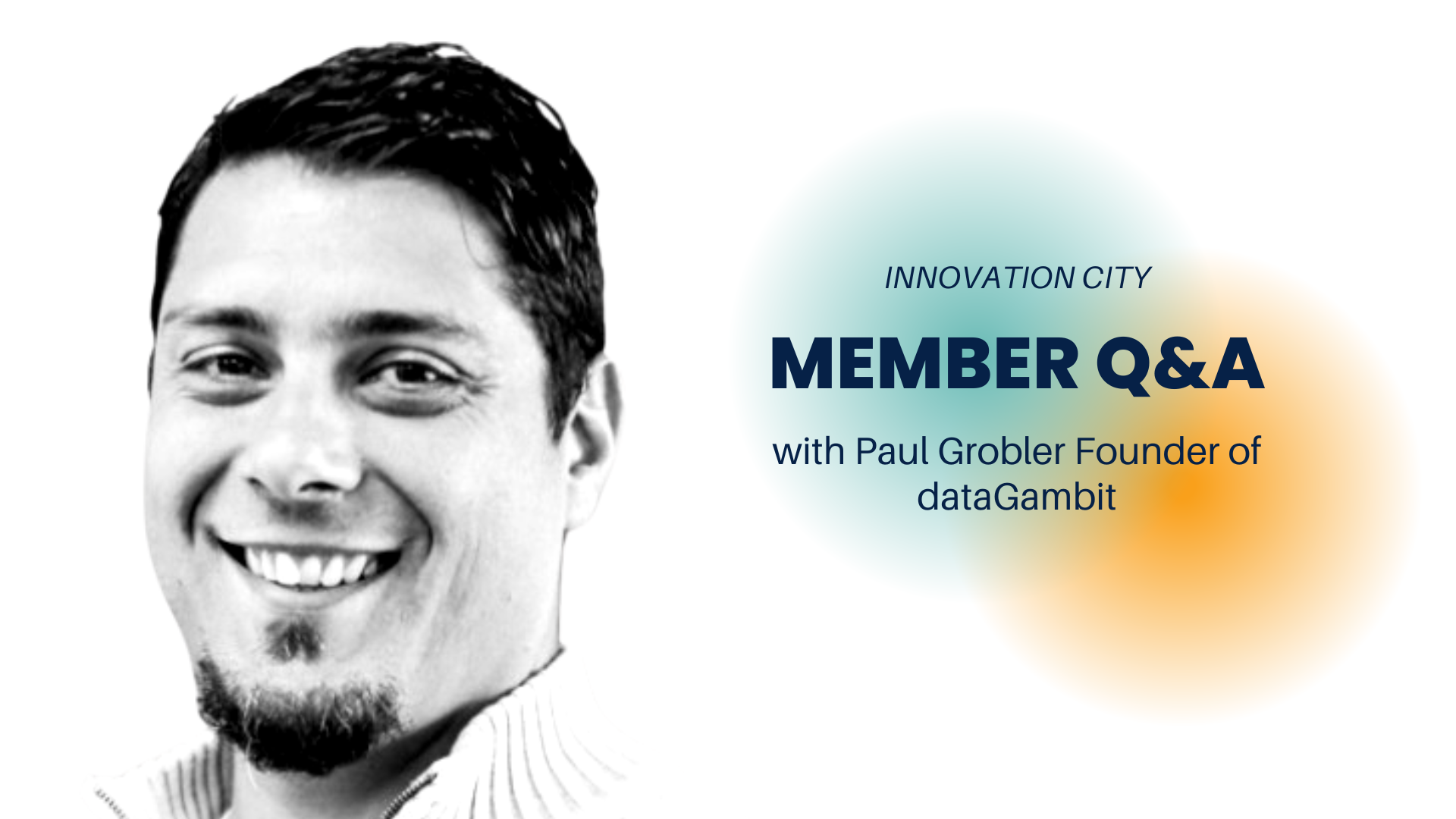 01 Mar

dataGambit: Offering Clarity and Simplicity in Data Management

Paul Grobler, Founder and MD of dataGambit Pty. (Ltd.) founded his company on April Fool's Day, 2021, after first gathering career capital in many interesting organisations, spanning big technology vendors, systems integrators, data consultancies and corporates. Over the years, he has been accused of many things, including being a developer, mountain biker, analyst, musician, data modeler, motorcycle rider, architect, hermeneutics student, consultant, husband, gamer, father and by far the most challenging of all – the owner of dachshunds!

Here's our #innovationcitymember Q&A with Paul:

Q: Who are you as a company on the whole, and why are you sorely needed in this world?

Data has been described as many cliché-ish things. I think "blood" describes it well. Whether you're a cow or a chicken, a wizard or a hobbit, a woman or a fish, blood flows through your veins. It makes you work, but if in a bad state, can also make you sick. It contains endless amounts of information and insight if you know how to catch it up, cleanse it, organise it and analyse it. It can be used as an indicator of health, or of illness. It can be enriched; it can even be transferred and shared when needed. It contains elements we don't understand yet and continues to amaze us. Wait, are we talking about blood or data?

dataGambit (no one apart from developers seems to get this lower camel case spelling right) is a data management and software solutions company specialising in fit-for-purpose data strategies, data architecture, data modelling and app development. We strive for one thing: clarity, and we want to achieve another: Simplification.

Q: Do you have any latest company news to share? 

Yes, in February 2023, we became one of Linda Balme's statistics and added a permanent employee (which means we have grown 100%), Estie Boshoff (Pr. Eng.). Although dataGambit has a modern philosophy of team collaboration (our team includes a few like-minded independent founders/contractors who work together on projects which interest us), it is nice to bring Estie on as a permie – she is a real gem. We have worked together before, and it is great to have her on board full-time.

We have also gained great customers in the last six months, including our neighbours Ayoba and our first UK customer, FloodRe.

Q: Where did the business concept originate and how has the journey been so far? 

dataGambit was a little seed in my mind waiting to germinate for a while, and Covid provided rich soil. I was part of the so-called "great resignation", where some reflection and critical assessment of my career caused dG to be made into something tangible. However, from the start, I had a fairly stable stream of work lined up (before I resigned from Altron, my previous company), so it helped. It also needed a lot of faith; starting something like this in the middle of a pandemic was a little crazy (and risky).

I absolutely love the journey; it is filled with adrenaline, excitement, (sometimes too much) hard work, as well as some panicky moments. I have never actually seen myself as an entrepreneur, and in many ways, I still don't. I like the process of learning and growing, though.

Q: Anything interesting happening in the future for your company/company's CEO, etc? 

Broadly speaking, we are moving from a relatively wide-and-shallow involvement with our customers to a narrower-but-deep one. We have trimmed some customers, and we'd want to expand and augment our services with those we are more closely aligned from a cultural point of view. People-centricity is the first of our five core values, and we are serious about it. The other values are:

2. SPACE (recursive acronym for Space to be yourself, Personal and Professional Growth, look to you Adjacencies, have a Coaching mentality, Everyone needs a mentor/mentee mindset)

3. Honour our network

4. Be into what you're into

5. Meritocracy

Q: Can you give us a real-world/practical example of how your product/service works?

If you're thinking about building a house, you might speak to an architect, a property expert who knows the neighbourhood where you'd like to build, and some friends who've built houses before.

When you need to design a data warehouse, an analytics platform, a reporting solution, or an app, we can help. We have much experience in data advisory/strategy (property experts), we have great business, data and solution architects (like the architects who design your house), and we can be your friend who've built houses before (because we have done this for a long time).

When the time comes for you to design and build your house, we help with the solution design (using various data modelling techniques), and we can also help implement the solution (or augment your team, depending on the requirement).

A practical example: we're helping Ayoba design their self-service BI (business intelligence) platform so that they can get important information like how many active users they have at any one stage, where they are, how they're consuming the services on the app, and how to the various countries where the app is deployed stack up against each other. When these basic insights are designed, the solution is expanded to do smarter analytics, including making use of more advanced techniques such as graphs or ML.

Another practical example, for a customer we have designed and built a data-processing engine which takes a whole lot of information from companies, including financial data, board composition, employment structures etc., and map it to the United Nations' SDGs (Sustainable Development Goals). Based on this, they get an idea of how their money actually advances those goals (for example addressing world hunger, promoting better education or saving the ocean), and how they need to adjust their spending strategies to align better with their ideological goals.

Q: What are some of the challenges you've faced as a startup in South Africa?
Financially, the government is really not helping with its taxing strategies for small businesses
Larger customers are unaware or ignorant of cash flow pressures in smaller service providers, so they often have unnecessarily long payment terms, which could have a negative impact
I can't really comment on any startup funding scenarios because we are not actively looking for it at the moment, but other than that, I think Cape Town specifically is a fantastic place to base a startup.
Q: Who or what has been your most helpful ally?
A good network is indispensable. From the first day, I had help with tangible opportunities and customers, and it is all because of people I have met and come to trust over the years who have reached out with guidance, mentorship, advice and project opportunities. I also believe that God was key in the orchestration of those people in my life.
Q: What's on your business growth wish list?
I might be a bit upstream here, but I believe in slow organic growth based on value. Since we're primarily a consulting company, taking on too much work too fast, causing to hire the wrong people and losing credibility is something I am very cautious of. Having said that, I hope to grow systematically where we have good control over which customers we take on board, what kind of projects we get involved in, and who to add to our incredible team.
Q: What is your take on doing business in South Africa? 
I have worked in large corporates, big consultancies, small consultancies, international technology vendors, and now a small startup. My experience with each of these is quite different. To do business as a large system integrator is very different from doing business as a smaller entity. People see and treat you in different ways, both better (in some cases) and worse (in others).
I think South Africa's business landscape is as diverse as any, and therefore ensuring a cultural match of your own values and those of your customers is pretty foundational. South African businesses are hurt by our government's reputation and some of its policies.
If organisations do well, it is often in spite of, and not because of, our South African context. But if your product or service is good, and you source our great local talent, if you are able to navigate the South African nuances and dynamics, then the country provides an awesome platform from where to operate (especially if you also have customers abroad).
I do think this becomes more difficult the larger the organisation grows, and there is more politics to deal with. When you're smaller, it is easier to manoeuvre, pivot and succeed. But what do I know – ask me again in 5 years!