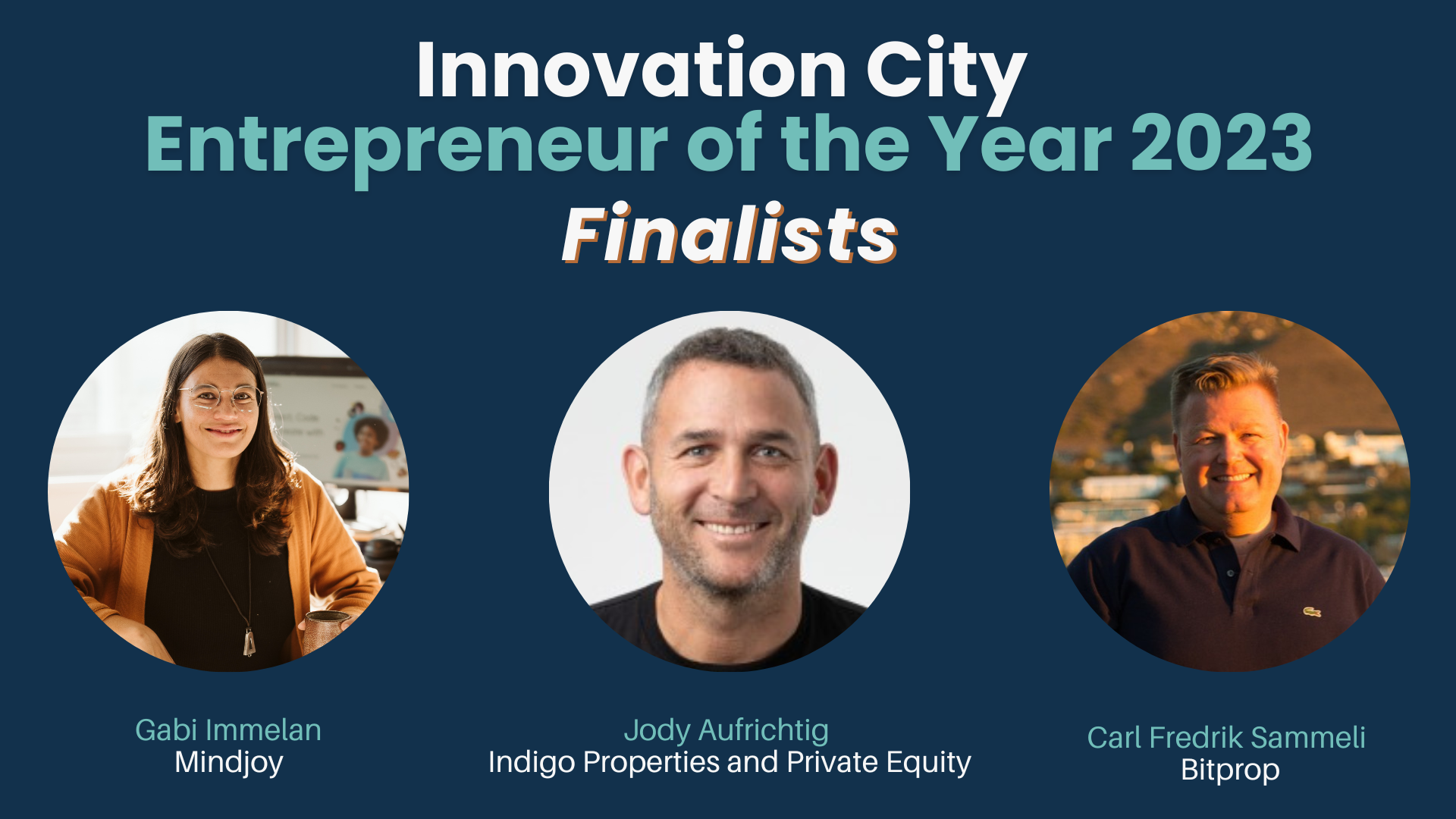 14 Apr

Who will be Innovation City's Entrepreneur of the Year? Meet the Finalists

Meet Innovation City Cape Town's Entrepreneur of the Year 2023 Finalists Gabi Immelman, Jody Aufrichtig, and Carl Fredrik Sammeli! All three have demonstrated exceptional entrepreneurship skills and contributed innovatively and significantly to the growth and development of their respective industries.

Here is a more in-depth look at our three finalists and why we think they're worthy of winning the coveted title of Entrepreneur of the Year in 2023.
Gabi Immelman
Gabi Immelman is the founder and CEO of Mindjoy, an EdTech startup that teaches coding skills to children in a child-friendly environment. Gabi's entrepreneurial flair was evident from a young age, having started various business ventures as a child, including a stick-on tattoo parlor and selling beaded jewelry. Gabi's experience in Silicon Valley exposed her to the future of education and the importance of digital skills, which inspired her to create Mindjoy.
Gabi and her team put children at the center of everything they do, constantly asking them what they are curious about, what and how they want to learn, and what's important to them.
She is a strong candidate for our Entrepreneur of the Year Award for several reasons: By addressing the widening digital skills gap, Gabi's work at Mindjoy equips children with the coding skills needed for the future world of work, especially in the African context. Gabi's work has a positive social impact, promoting equitable access to high-quality computer science education, and her ability to build a diverse team is testament to her great leadership and management skills.
Jody Aufrichtig
Jody Aufrichtig is a prominent South African entrepreneur and investor, best known as the co-founder and CEO of PSyence Group, a technology-focused investment and development firm.
Jody's entrepreneurial spirit led him to found Daddy's World Group, a property development and hospitality company that has since grown into a multi-billion-rand business with a portfolio of hotels, restaurants, and other high-end properties across South Africa. With Daddy's World Group as a launching pad, Jody went on to co-found PSyence Group, which focuses on investing in and developing innovative technology-driven projects.
One of Jody's most notable recent projects is the development of a new 15-hectare mixed-use precinct in Cape Town, which will be anchored by Amazon's first African headquarters. The development will include commercial, residential, and retail spaces, as well as public amenities and green spaces.
Jody's expertise in finance and property development, coupled with his passion for technology and innovation, has made him a leading figure in South Africa's business community. He is also an active philanthropist, supporting a range of causes related to education, healthcare, and environmental sustainability. It is his involvement in growing the tech ecosystem in Cape Town that has him on our radar as a worthy finalist for Innovation City's Entrepreneur of the Year.
Carl Fredrik Sammeli
Carl Fredrik Sammeli is a Swedish entrepreneur and business leader who currently serves as the Executive Chairman and co-founder of Bitprop, a company that enables financial independence by partnering with homeowners to turn them into property entrepreneurs.
In 2012, Carl Fredrik moved to South Africa with his family and donated funds and expertise to an organisation called Khaya Lam, which helped township property owners to clean up their title deeds. Having seen the empowering effect owning land can have, and in an effort to create a more sustainable, scalable impact, he founded Bitprop in 2019 as an entrepreneurial and innovative way to create true value and upliftment, providing ownership and income to those without it.
Carl Fredrik has founded or invested in several companies within technology, healthcare, strategy, marketing, advertising and digital communication. He is most known for founding the PR agency, Prime, in Sweden – the world's most awarded agency by Cannes Lions ('World Cup' in advertising) over the period 2010-2023. He has 30 years of experience in entrepreneurship, sales, strategy, crisis management, public affairs, regulatory affairs, marketing and communication.
Today, he works as an investor and advisor with early-stage entrepreneurs, family offices, family-owned businesses and investment companies. His track record includes 3 failures and 7 successes, with the most successful providing a return of 1200+ times the invested capital.
Carl Fredrik provides an economic opportunity for previously disadvantaged South Africans to earn an income otherwise unavailable to them. It is this innovative and life-changing aspect to his work that makes him a worthy finalist for Entrepreneur of the Year in 2023.
Who will be crowned Entrepreneur of the Year?! The winner of this prestigious award will be announced at our 'Oscars of Business' Gala Awards Evening on the 20th of April. Good luck to all the finalists!