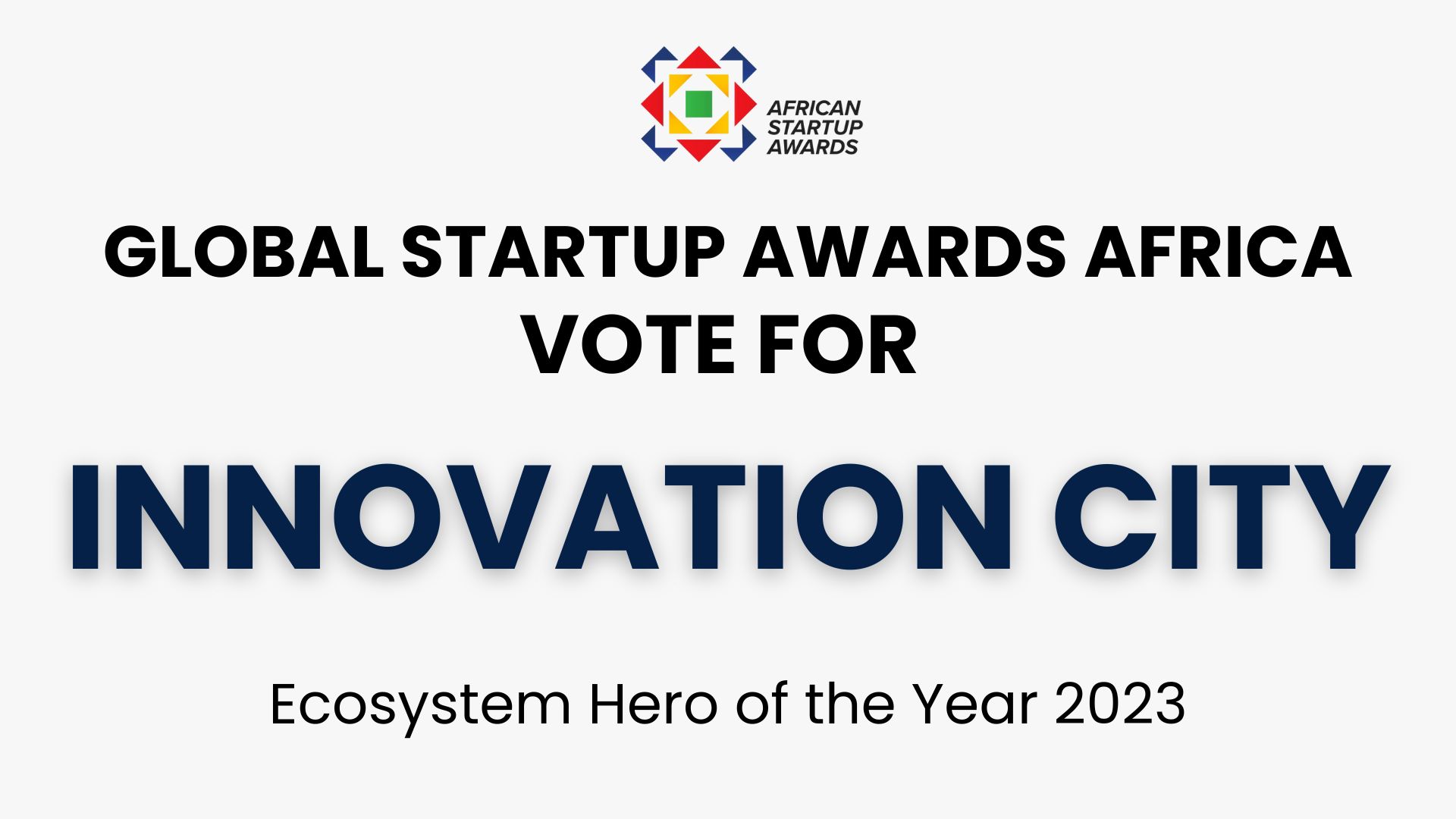 28 Jun

What does it take to be an African Ecosystem Hero of the Year?

Being recognized as the Ecosystem Hero of the Year for the African region is a remarkable achievement that reflects the exceptional contributions, innovation, and impact within the local startup ecosystem and beyond. It is with this in mind that we think Innovation City Cape Town stands out as a deserving candidate for this prestigious title!

Here's why you should vote for us in the Global Startup Awards Africa:

Nestled in the vibrant neighborhood of Kloof Street in the heart of Cape Town, Innovation City has emerged, in just a little over a year, as a dynamic community of digital start-ups, scale-ups, corporates, entrepreneurs and innovators. With its commitment to connecting and co-creating, Innovation City is striving to transform the African continent and make a positive impact by growing the tech ecosystem.
A Thriving, Carefully Curated Ecosystem
Innovation City Cape Town offers an exceptional ecosystem that fosters growth and collaboration. With over 4000 sqm of dynamic workspace, state-of-the-art business rooms, and unique event spaces, Innovation City provides a conducive environment for innovation and progress. Its bustling atmosphere attracts entrepreneurs and innovators from diverse backgrounds, encouraging them to connect, exchange ideas, and work towards common goals.
Weekly Events and Ecosystem-Building Programs
One of the key highlights of Innovation City Cape Town is its impressive lineup of free weekly events and larger ecosystem-building programs. These initiatives serve as vital platforms for knowledge-sharing, networking, and fostering innovation. In 2022 alone, over 7,000 individuals from around the continent participated in the various events, masterclasses, summits, and programs held at Innovation City.
Innovation Collective: The 10-Week Startup Booster Program
At the heart of Innovation City's ecosystem lies the Innovation Collective, a 10-week startup booster program. This transformative initiative supports and educates aspiring African tech entrepreneurs, equipping them with the tools, resources, and expertise needed to transform their ideas into scalable businesses. With the guidance of expert advisors and mentors, founders are empowered to build successful ventures that make a meaningful impact.
Tinder for Business: Igniting Connections and Growth
Innovation City's "Tinder for Business" event is a thrilling and fast-paced gathering that brings together startups, investors, and corporate leaders. Startups have the opportunity to pitch their business ideas to potential investors within a limited time, creating an atmosphere of energy and excitement. This event has proven to be a catalyst for valuable connections and propelling the growth of businesses within the ecosystem.
Celebrating Innovation: Unique Programmes and Engagements
Innovation City goes above and beyond in celebrating innovation and nurturing entrepreneurial talent. From the Tech Startup of the Year competition to the Innovation City Awards night, the female-centric Digital Divas Summit, and numerous other programs, Innovation City provides a platform for digital-first businesses to showcase their ideas, engage with industry leaders, and foster collaborations. With over 170 hosted events, including masterclasses and panel discussions, Innovation City actively supports learning and knowledge exchange.
Impressive Results and Impact
The numbers speak for themselves: Innovation City Cape Town has made a substantial impact in a short time. With over 520 businesses joining the community, 96% of members expanding their teams, and 12 companies receiving funding, it's clear that Innovation City's ecosystem is driving growth and success. Additionally, over 10,000 people have experienced the welcoming doors of Innovation City, making it a hub of engagement and inspiration.
Ecosystem Hero of the Year 2023
Innovation City Cape Town is a powerhouse of innovation, collaboration, and impact within the African startup ecosystem. The free weekly events and ecosystem-building programs provide invaluable opportunities for growth and learning.
By casting your vote for Innovation City as the Ecosystem Hero of the Year 2023 in the African Global Startup Awards, you not only honour major achievements but also support the continued growth and advancement of Africa's entrepreneurial landscape and beyond!
Vote for Innovation City here.
Thank you for your support!
The Innovation City Team