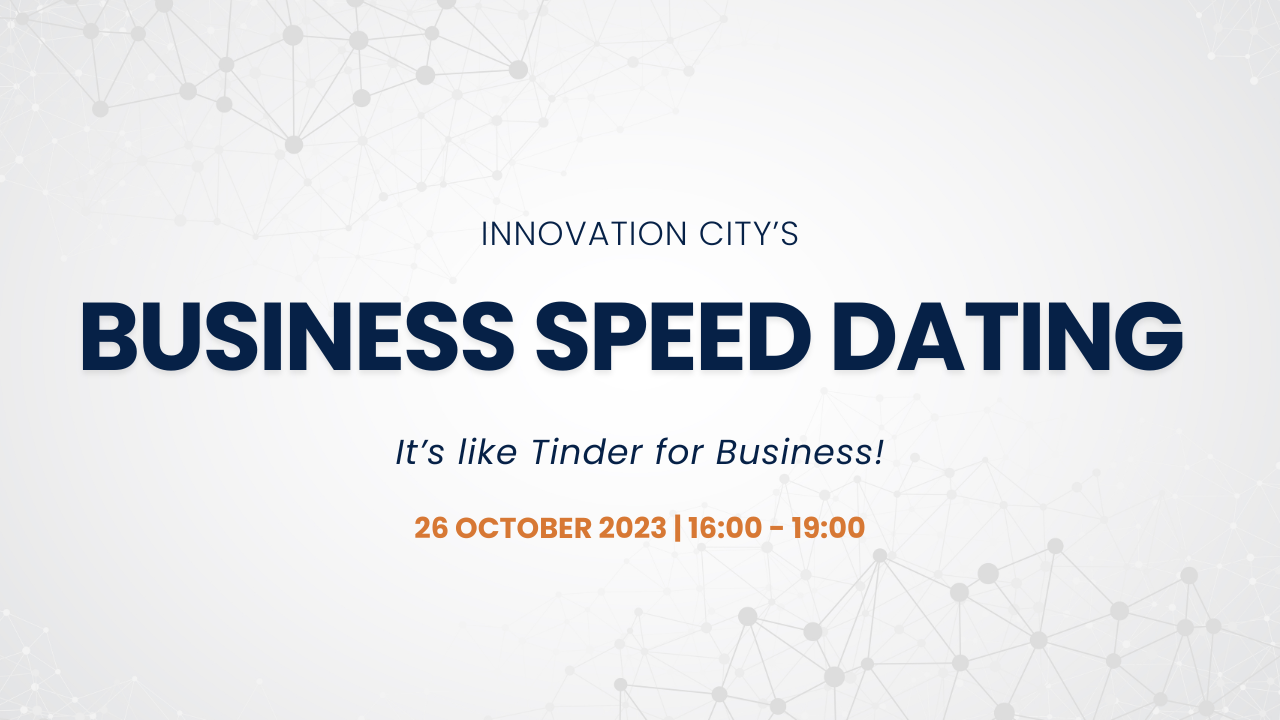 07 Sep

Innovation City Business Speed Dating 2023: Where Possibility Babies are Made

Are you ready for another exhilarating round of business connections and possibilities? Innovation City presents the much-anticipated "Innovation City Business Speed Dating 2023: It's like Tinder for Business" event. Get ready to embark on a journey filled with innovation, networking, and endless opportunities!
Business Speed Dating Success
Innovation City's 'Tinder for Business' event made waves in 2022, bringing together over 70 tech startups and leading Venture Capital firms and Corporates from South Africa. In just four minutes, during 24 intensive pitching sessions, innovative connections were forged, sparking the birth of countless 'Possibility Babies,' as our co-founder Kieno Kammies lovingly calls them!
Innovation City: The Vision
Stephan Ekbergh, our other co-founder and a trailblazer in the travel industry, envisioned Innovation City as Cape Town's Studio 54, but for business! The mission is clear: to elevate Cape Town to the status of Africa's foremost tech hub.
Unique connection-building initiatives like the Business Speed Dating event are integral to achieving this vision. Innovation City's core mission centers on nurturing and connecting its members, providing a platform for growth and business acceleration. The success of last year's Tinder for Business underscored the power of this ecosystem and its growth potential for entrepreneurs.
Matching with the Best
Out of 120 startups that applied to participate last year, 74 were selected based on stringent criteria. Startups were carefully matched according to their tech-based business offerings, development stage, and tech category. Fintech, communication, agritech, and greentech were among the diverse sectors represented, showcasing the breadth of innovation in South Africa.
Investor Enthusiasm
On the investor side, a formidable lineup, including Microsoft, VISA, Allan Gray, ShopriteX, and many others, eagerly awaited their "matched dates." Their enthusiasm and active participation demonstrated the event's significance in the startup ecosystem.
A Resounding Success
Participant feedback was overwhelmingly positive. Startups received follow-up meeting offers, indicating a genuine interest from investors. Entrepreneurs like Wikus Stassen from remotehats praised the connections they made, while Paul Casarin of Pet Rock Investments highlighted the value of reconnecting with old colleagues and friends.
Looking Ahead to 2023
As we approach the 2023 edition of Business Speed Dating, excitement is building! This year's event promises even more opportunities, more connections, and more 'Possibility Babies' in the tech startup landscape!
Zakhele Mzolo, Investment Principal from IDF Capital, perfectly captured the sentiment: "I'm actually blown away, you know? I had no idea that we had such a facility in our own backyard; a whole ecosystem for entrepreneurs – I think it's a brilliant idea."
Apply to Participate NOW!
Mark your calendars for October 26th, 2023, and get ready to immerse yourself in a world of innovation, connections, and limitless possibilities.
Find new professional contacts from both South Africa's largest corporates, venture builders, and prominent International tech companies and VCs. Whether you're a startup, a scaleup, an investor, or a corporate entity, this event has been thoughtfully curated by Innovation City to foster business growth and longevity in Cape Town.
When and where is it happening?
The event will take place on October 26th, 2023, exclusively at Innovation City's premises. Speed Dating rounds are scheduled to occur strictly between 4 pm and 6 pm, followed by an informal networking session.
How it works:
A maximum of 100 startups will be selected from the pool of applicants, and they will have the opportunity to meet with 20 Corporates, venture builders, and VCs. The event will follow a station-based format, where meetings with investors and corporates are pre-arranged based on the information provided in the startups' registration forms. Investors and corporates will also have the chance to specify the type of startup they are most interested in speed dating with.
Each startup will have a maximum of 4 minutes to pitch their ideas, with 1 minute in-between for startups to change seats. It's designed to be simple and efficient, ensuring meaningful interactions.
Want to pitch?
If you're a startup eager to participate, please fill out the simple registration form.
Entries for startups close at end of day, October 20th, 2023.
Want to invest?
If you're interested on being on investor/VC/Corporate side, please show your interest by filling in this form.
Application for participation for investors close on 6th October, 2023.
Want to partner with us?
Partnering with Innovation City's Tinder for Business Speed Dating Event offers a unique opportunity for your organization to gain prominent visibility within Cape Town's thriving tech and business ecosystem. By associating your brand with this event, you'll showcase your commitment to fostering innovation, collaboration, and business growth.
For more information, please contact [email protected]
Stay tuned for updates, and get ready to experience the magic of business matchmaking at Innovation City's 'Business Speed Dating: It's like Tinder for Business' event!