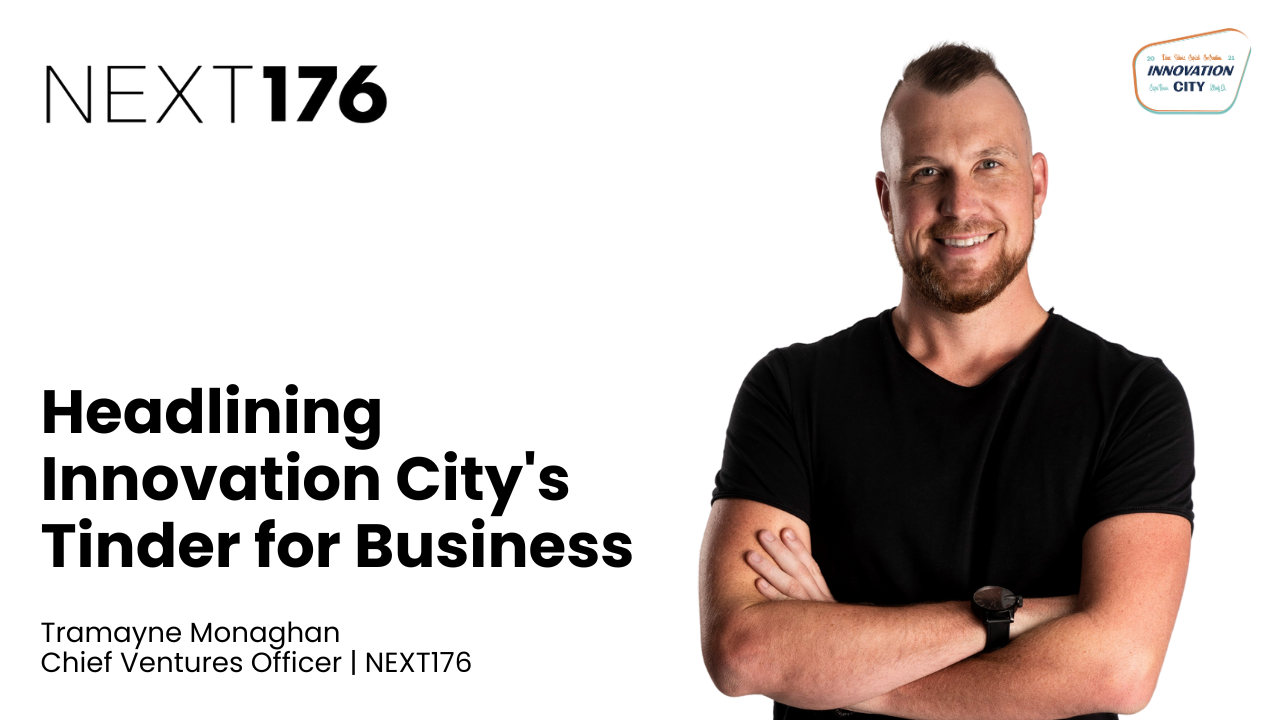 17 Oct

NEXT176: Headlining Innovation City's 'Tinder for Business'

Meet Tramayne Monaghan, a visionary venture builder, early-stage investor, and celebrated author known for pioneering innovation and sustainable growth in business. With a stellar track record of launching groundbreaking products, elevating underperforming portfolios, and championing customer-centric values, Tramayne brings a wealth of expertise to the forefront of today's entrepreneurial landscape.

In this enlightening Q&A session, Tramayne shares invaluable insights into the world of NEXT176, Africa's catalyst of innovation and strategic partnerships.

As we explore NEXT176's core mission and values, along with its headline sponsorship of Innovation City's 'Tinder for Business' event, you'll gain a deeper understanding of the transformative impact driving this dynamic force in the industry.

Q: Can you provide an overview of NEXT176 and its core mission and values?

NEXT176 exists to create and scale transformative technologies and solutions that solve real-world problems. We are in the business of creating shared value in the future of emerging economies and underserved communities.

Q: What sets NEXT176 apart from other companies in the industry?

Our mission is to build and create these disruptive and sustainable businesses to positively impact 1 billion lives. Our purpose extends beyond commercialisation; we aim to make a meaningful contribution to a better future.

Q: How does NEXT176 contribute to innovation and entrepreneurship in the tech and business ecosystem?

We are focused on ecosystems and verticals that will be relevant to and enhance customers' lives.

Furthermore, through strategic investments, mentorship, and providing a nurturing environment for startups, we aim to unlock opportunities not just for individual entrepreneurs but for the broader community, effectively contributing to a future where entrepreneurship in Africa is celebrated, supported, and successful.

Q: Can you share some key achievements and milestones that NEXT176 has reached in recent years?

With just over 2 years under our belt, we are starting to see green shoots and readiness to scale in the current ventures within our Venture Studio. This is evident even with one of our ventures having won a Sustainability Project Award from the SAB Beyond Awards just last week. We also have made two substantial investments into two disruptive businesses this year alone. We've also made great strides in partnering with various market players like Vodacom Group, ShopriteX, Standard Chartered Ventures and recently Safaricom to deliver new value.

Q: What motivated NEXT176 to become the headline sponsor of Innovation City's Tinder for Business event?

NEXT176 is committed to fostering entrepreneurship and innovation across Africa, with a strong emphasis on inclusive growth, technological advancement, and sustainable development. This commitment drives us to support and empower emerging startups, even if we don't directly invest in them. By sponsoring Innovation City's Tinder for Business event, we aim to play a pivotal role in nurturing the burgeoning founder base in Africa and reinforces our dedication to our continent's innovation landscape. O

Q: What benefits does NEXT176 hope to gain from this sponsorship, and how does it align with the company's goals?

By prioritizing the development of local talent and nurturing a thriving startup ecosystem, we are eager to harness the limitless potential and entrepreneurial drive present on the continent. So, our interest lies in tapping into this vibrant community to act as a catalyst for positive change and to enable innovation. This sponsorship perfectly aligns with our mission in that regard.

Q: Are there any specific industries or sectors that NEXT176 is particularly interested in or focused on within the startup ecosystem?

Yes, absolutely. We want to make a difference where it really matters so we have identified high-growth opportunity areas to create high-value solutions for customer needs and pain points in the Health, Education, Jobs, Business Ownership, Environmental Sustainability and Debt Management ecosystems.

Q: Can you highlight any exciting projects, partnerships, or initiatives that NEXT176 is currently involved in?

NEXT176 has an exciting portfolio of built ventures and investees, and we are starting to see synergies forming between them. We believe that what we build and what we invest in, can in the long term, be an orchestrator of ecosystems and better the lives of those that use these products.

We are seeing great growth and interest from a few global players interested in our ecosystem and in the coming days a few of those announcements will happen. This is just further showing that we are moving in the right direction, even if we are still young in comparison to venture building, investing, and partnering.

We're thrilled to finally be in a space where our studio team is scaling and now is diving headfirst into the development of three groundbreaking ventures. From formulating initial hypotheses to rigorous validation, prototyping, and scaling, our focus is Africa. Stay tuned as we embark on these exciting journeys, dedicated to pushing the boundaries of innovation and impact.

Q: What advice or insights can you offer to startups looking to connect with NEXT176 at the Tinder for Business event?

My best advice to startups is to not spray and pray. This is a true analogy in how they build the product, and it stands firm to successful fundraising too. Be focused on who you want on your cap table and what that investor can bring to the table. It may be licensing or connections. It may be experience in your vertical or access but be very specific about who you go after.

Once you do know this, do your homework on that investor.

But truthfully, I want to hear customer-focused solutions. I want to hear in-depth about the problem and how it is solved for real people, not personas.

Q: How does NEXT176 see the future of innovation and entrepreneurship in South Africa and globally?

For NEXT176, the future is about empowering African entrepreneurs to address both local and global challenges, carving out solutions that are uniquely tailored to the diverse socio-economic contexts found within the continent. The focus isn't merely on technological innovation but also on creating value for communities, driving financial inclusivity, and promoting wellness and education.

In this scenario, we see Africa not just as a consumer but also as a creator of technology and innovation, actively contributing to the global entrepreneurial narrative. We believe in investing in ideas that have the power to transform lives, with a particular emphasis on products and services aligned with the crucial stages of human life.

Ultimately, NEXT176 seeks to be at the forefront of this transformation, serving as a catalyst for change and an enabler of innovation that is reflective of Africa's vibrant and dynamic character. Through strategic investments, mentorship, and providing a nurturing environment for startups, we aim to unlock opportunities not just for individual entrepreneurs but for the broader community, effectively contributing to a future where entrepreneurship in Africa is celebrated, supported, and successful.

Join Innovation City and NEXT176 at Tinder for Business on October 26th! More info here.