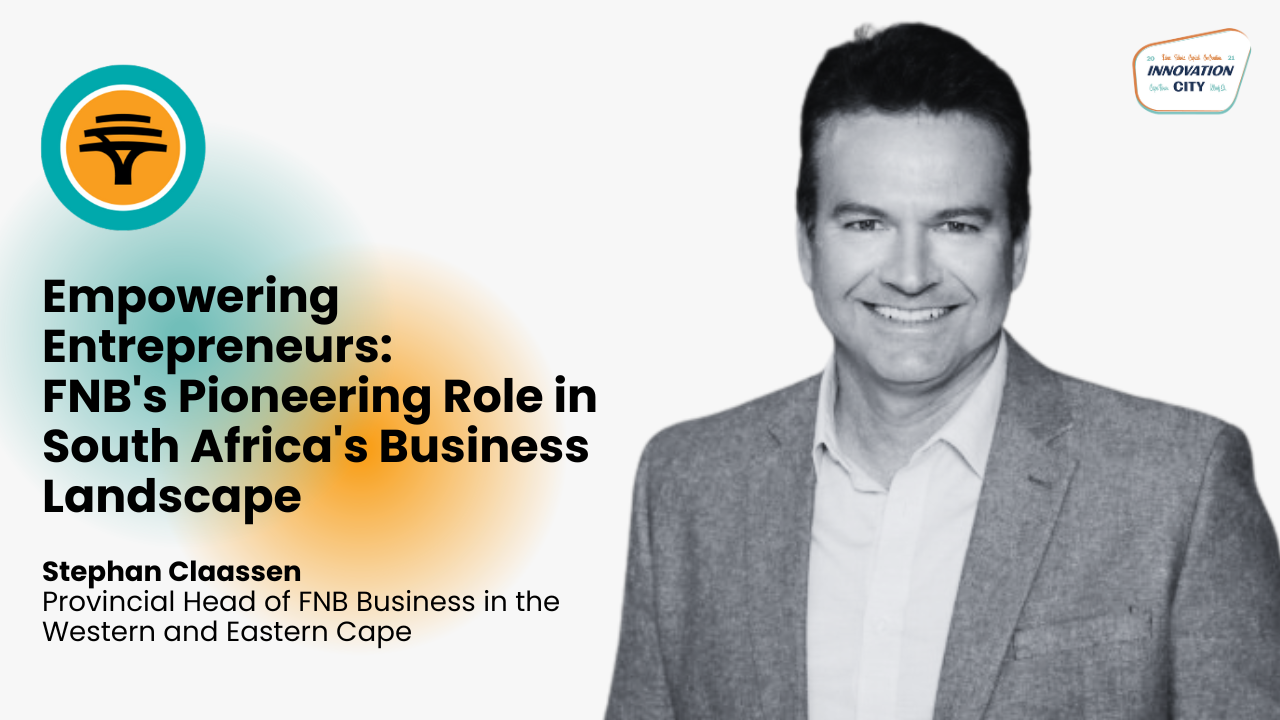 25 Oct

Empowering Entrepreneurs: FNB's Pioneering Role in South Africa's Business Landscape
Empowering Entrepreneurs: FNB's Pioneering Role in South Africa's Business Landscape
Stephan Claassen, Provincial Head of FNB Business in the Western and Eastern Cape, offers insightful perspectives on FNB's commitment to fostering innovation and entrepreneurship, especially through its headline sponsorship of the upcoming 'Tinder for Business' Speed Dating event happening at Innovation City in Cape Town on October 26th. In this interview, he shares how FNB's strategic support for South African entrepreneurs aligns with its long-term goals and the unique benefits it hopes to gain from this partnership.
How does FNB envision its role in fostering innovation and entrepreneurship through the Tinder for Business Speed Dating event?
FNB's role as a headline sponsor exemplifies its dedication to nurturing innovation and entrepreneurship. By supporting events like these, FNB aims to provide a platform for startups to connect with investors and corporates, fostering collaboration and growth within the entrepreneurial ecosystem.
What specific benefits does FNB hope to gain from this sponsorship, and how does it align with the bank's long-term goals?
FNB aims to gain valuable insights and connections within the startup space, aligning with its long-term goals of staying at the forefront of innovation. This sponsorship offers FNB the opportunity to engage with startups, understand their needs, and provide tailored financial and non-financial support, thus strengthening its position as a preferred banking partner for entrepreneurs.
In what ways does FNB plan to engage with startups and entrepreneurs during the event?
FNB intends to actively engage with startups and entrepreneurs during the event through various channels. This could include providing information about their offerings, sharing insights, and networking to understand the challenges faced by startups and tailor their support accordingly.
Are there particular industries or sectors within the startup ecosystem that FNB is particularly interested in connecting with?
FNB recognizes the importance of diversity within the startup ecosystem and is open to connecting with startups from various industries. The bank is interested in fostering innovation across sectors, enabling them to contribute to the growth of the South African economy.
Can you share any exciting projects, initiatives, or partnerships that FNB is currently involved in to support the startup ecosystem?
FNB offers initiatives such as educational materials and a Fundaba program to empower entrepreneurs with the knowledge and tools to run successful businesses.
What advice does FNB have for startups attending the event on how to make the most of this networking opportunity?
FNB advises startups to come well-prepared, with a clear pitch and an understanding of their unique value proposition. Furthermore, they should actively seek out connections, collaborate, and be open to learning from industry experts and other startups present at the event.
How does FNB see the future of innovation and entrepreneurship in South Africa and globally?
FNB envisions a future where innovation and entrepreneurship are key drivers of economic growth in South Africa and beyond. The bank believes that startups will continue to disrupt industries, create unique business models, and contribute significantly to the global entrepreneurial narrative.
What message would you like to convey to startups and entrepreneurs who are considering attending Tinder for Business with FNB as the headline sponsor?
FNB's message to startups and entrepreneurs is clear: seize this opportunity to connect, collaborate, and grow. The bank is here to support your journey, and by participating in this event, you're taking a significant step toward achieving your entrepreneurial goals. Let's shape the future of innovation and entrepreneurship together!