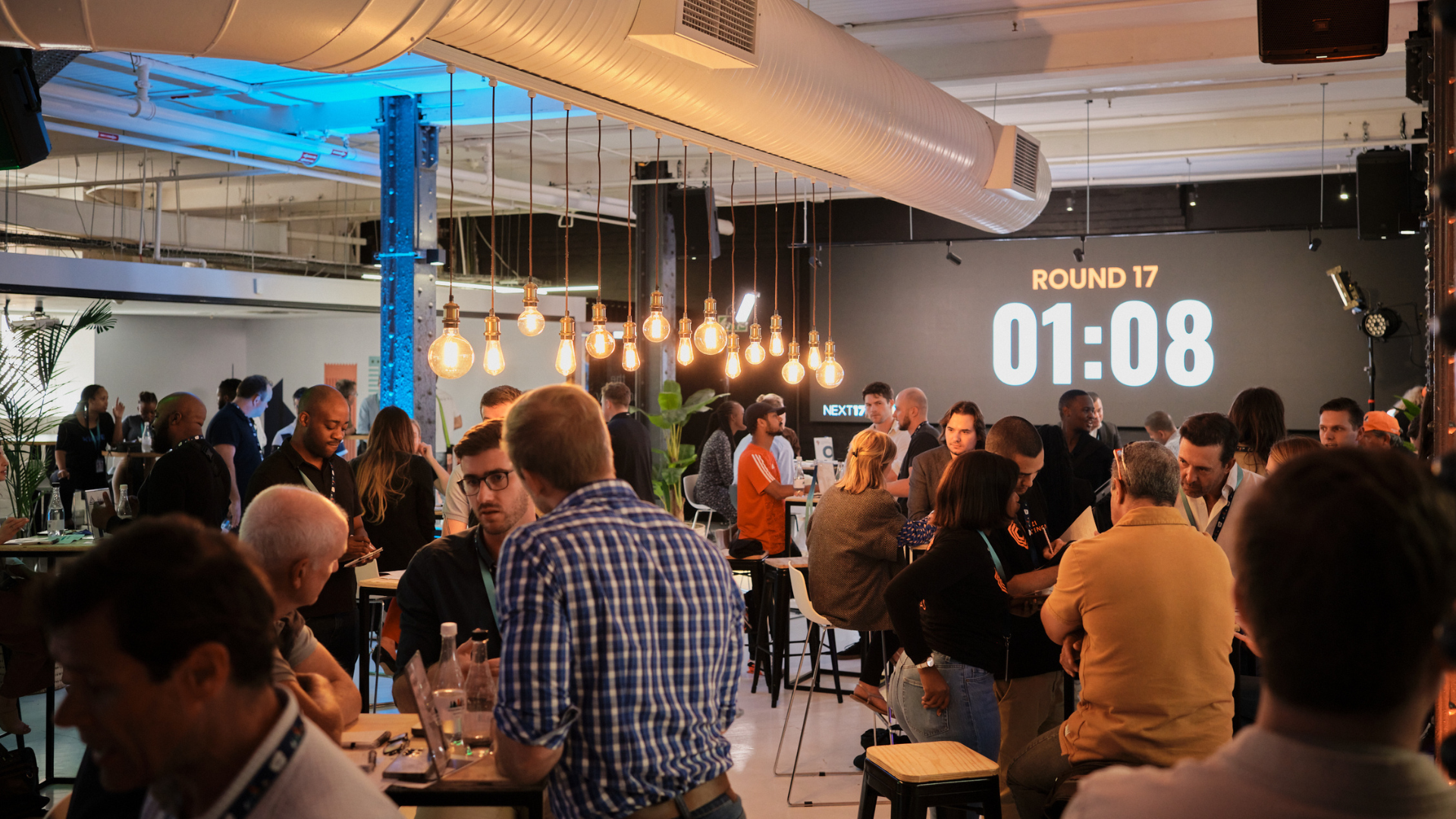 06 Nov

Press Release: Innovation City's 'Tinder for Business' Speed Dating Event Connects Startups and Corporate Giants

Cape Town – Innovation City, a dynamic platform dedicated to fostering innovation and entrepreneurship, successfully hosted its annual Speed Dating event on October 26th. This unique event brought together 19 Corporates and 68 startups, creating a vibrant atmosphere of connections, collaboration, and business opportunities.

The event, dubbed as "Tinder for Business," provided a two-hour window for high-growth start-ups and scale-ups to connect with Corporates and VCs. The rapid-paced format of 4-minute pitches proved highly effective in facilitating meaningful conversations and opportunities.

The event was headline sponsored by NEXT176 and FNB South Africa, who played a pivotal role in making the event a resounding success. NEXT176, led by its visionary CVO Tramayne Monaghan, brought its wealth of expertise in venture building and early-stage investment, enriching the event's ecosystem with their transformative approach to innovation.

Meanwhile, FNB, renowned as the "Most Innovative Bank in SA," demonstrated its unwavering commitment to nurturing entrepreneurship and supporting businesses' growth journeys. Their sponsorship underscored their dedication to providing meaningful solutions for entrepreneurs and businesses in South Africa:

"Tinder for Business hosted by Innovation City, was an incredibly energetic networking opportunity, showcasing some of SA's best startups, scaleups and entrepreneurial talent. FNB's role as a headline sponsor exemplifies its dedication to nurturing innovation and entrepreneurship. By supporting events like these, FNB aims to provide a platform for startups to connect with investors and corporates, fostering collaboration and growth within the entrepreneurial ecosystem," said Shaun Gerber, Regional Director for FNB Commercial in the Western Cape.

Their sponsorship underscored their dedication to providing meaningful solutions for entrepreneurs and businesses in South Africa.
Quotes from the Event:
Innovation City Co-Founder Kieno Kammies said "Our sincerest and wholehearted thanks to our headline sponsors, NEXT176 and FNB, and thanks to IDA Ireland International Financial Services who ensured we were well hydrated throughout the event. In a world where smaller businesses often find it challenging to connect with brands of this stature, Innovation City is dedicated to bringing brilliant ideas, initiatives, networks, capital, and founder growth closer together."
Tramayne Monaghan, CVO of NEXT176, expressed his enthusiasm: "Thank you to everyone NEXT176 interacted with. I was astounded at the talent and depth of South Africa's entrepreneurial spirit."
Jessica Hawkey, Managing Director of redAcademy, lauded the event's electric atmosphere: "The fast-paced Tinder for Business event made for an exciting afternoon of connections with top corporates and investors of South Africa. Pitching in 4 minutes is fast-paced, but highly effective."
Miranda Perumal, Founder & CEO of scale, noted, "As a new female founder, in a complex segment and challenging ecosystem, we found the Tinder for Business event to be a platform for us to connect with the influential players in the market to drive mutual value. Kudos to Innovation City for recognising the quality in the use cases that the startups aim to deliver, as well as the organised, tangible and efficient manner in which they ran the event. It resulted in learnings, impact and in-person access to investors that have the ability to unblock barriers for early stage fintechs, their founders, and the ambitions they live every day setting out to achieve!"
"We had a great time meeting different players in the funding community around Cape Town, South Africa, and even parts of Europe. It was a fabulous forum for pitching what makes our business unique, taking valuable feedback, and connecting with potential investors who can truly move our project forward. On top of everything, it was an inspiring group of other entrepreneurs to remind ourselves why we are doing what we do," shared Peter Marshall, CEO of AGULHAS.
Regan McGuire, Business Development Lead at Hailr, shared his exhilarating experience: "The energy when you walk through the doors at Innovation City Cape Town was electrified. From innovative start-ups to scale-ups, we were all in the thick of it at the Tinder for Business Event."
Genevieve Booysen, Co-Founder and COO of Gobuddy, highlighted the event's spirit of growth: "Growth doesn't happen in your comfort zone. It was exhilarating and inspiring; what a privilege to be included!"
The event underscored Innovation City's commitment to creating an ecosystem where startups and corporate giants can thrive and co-create value, shaping the future of business innovation.
Judging by the success of this event in the past two years, 'Tinder for Business' at Innovation City is here to stay: "Trust me when I say, next year is going to be even bigger, bolder, and better. We'll be bringing together more startups, more dynamic investors and corporates, and more opportunities than ever before. Get ready for an event that will truly redefine networking and innovation," said stephan ekbergh, Co-Founder of Innovation City.
About Innovation City:
Innovation City is a vibrant platform dedicated to fostering innovation and entrepreneurship. It serves as a catalyst for connecting startups and corporate giants, thereby propelling the growth of South Africa's business ecosystem. To find out about how you can become a member, please visit innovationcity.co.za
Media Contact:
Sandra Buckingham